Twelve FREE Printable Holiday Tags to Watercolor
Recently I had the opportunity to teach a bunch of folks How to Watercolor Twelve FREE Printable Holiday Tags! Y'all know that I just LOVE sharing my drawings and doodles, so when my favorite company Tombow USA reached out and asked me to teach a national online class for Michael's (yes, THAT Michael's) I was excited, thrilled, and beyond words! I am sharing some behind-the-scenes and all the files used in the class right HERE for y'all to enjoy. My Tombow and Michael's Zoom Class is available and I am sharing the link below! I am sharing today as part of the Team Creative Crafts Gift Wrapping Crafts Edition, and I love to see all of the creative inspiration!
Twelve Hand-Drawn Printable Holiday Tags to Watercolor
This week I am co-hosting Team Creative Crafts Creative Gift Wrap and Tag Edition with my crafty friends Laura from Laura Kelly Designs, and Lindsay from Artsy-Fartsy Mama. We are featuring ALL the fabulously colorful and cute craft projects from some of the most talented designers we know. Check out my tutorial, then scroll down to see all the creativity, AND stop back on Saturday to see what everyone has created!
This post, Twelve Printable Holiday Tags to Watercolor, contains affiliate links. Using links to these sites means I will earn a percentage of the purchase at no extra cost to you.
Here's what you need to create FREE Printable Holiday Tags:
Here's how to Watercolor the Cutest Holiday Tags:
MY PROCESS
I love to use the Strathmore Watercolor Paper Pad which is 5.5″ by 8.5″ cut into thirds with my paper trimmer. Sketching hand-drawn images with the MONO Drawing Pencil 4H which is a hard lead and provides a very light line that is easy to erase. I LOVE my Tombow MONO Twin Permanent Marker to ink in all of the images on the tags. It has a larger bullet tip and a thin fine tip which is like two pens in one! The Tombow Watercolor Set includes five Dual Brush Pens (526, 757, 885, 993, and 249), Mono Drawing Pencil 4H, MONO Twin Permanent Marker, MONO Eraser, Blending Palette, and Water Brush. It is the perfect starter set!
DIRECT BLENDING METHOD
Add color from the Tombow Dual Brush Pens in the Watercolor Set directly to the tags printed on watercolor paper. Blend colors with the Water Brush, applying light pressure with your finger and thumb at the barrel of the brush. This is the direct blending method.
INDIRECT BLENDING METHOD
Add more water to create a lighter wash of color or add less water to create a deeper color. Use the Blending Palette from the Watercolor Set by mixing colors and then adding those mixed colors to the watercolor paper tags. This is the indirect blending method.
FINISHING THE TAGS
Use a corner-rounder punch to round all four corners of the tag. Punch a hole in the top at the center of the tag. Cut a length of baker's twine or ribbon and tie in a bow. Add a message with either the Dual Brush Pens or the Tombow Fudenosuke Brush Pen. Download the Twelve FREE Printable Holiday Tag files below ⇓
Festive Free Printable Holiday Tags
I hope you have enjoyed these Twelve FREE Print and Color Holiday Tags that I have shared today and that you will be inspired to get out your Tombow supplies and watercolor! My only requirement is that you have FUN! No expectations, just do something out of the box and have a good time!
Here's a fun behind-the-scenes shot of my set-up for the zoom class Twelve FREE Print and Color Holiday Tags. It was already dark outside, so I had to drag ALL the lamps into my studio and prop my laptop up on several boxes! I really LOVE teaching and hope y'all had FUN!
Tombow and Michael's Holiday Tag Class YouTube Link
Get the kiddos involved and have a family coloring night. If you don't want to jump into watercolor, then print the Twelve FREE Printable Holiday Tags on cardstock and get to coloring with your favorite Tombow pen, marker, or colored pencils. Here's the complete video tutorial for your viewing pleasure!
Now it's time for some INSPIRATION!
Below are more projects created by some of my craftiest designer friends. We are participating in the Team Creative Crafts – Gift Wrap Crafts Edition. Scroll down to see all the goodness. Stop back by Saturday for all the super cool projects!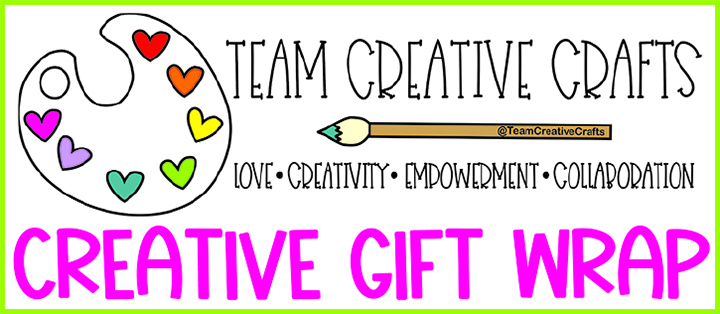 Awesome Gift Wrap and Tag Craft Inspiration from Team Creative Crafts
I am totally blown away by the fabulous variety of projects that the team created this month. We told everyone "Wrapping Crafts, Anything Goes" and we have not been disappointed! And look at all the FABULOUS projects!
Creative Gift Tags and Wrapping Crafts
Beth with Creatively Beth (THAT'S ME!) is sharing 12 Free Printable Holiday Gift Tags that you can download, print, and color! The perfect activity to complete with the kids.
Looking for the perfect stocking stuffer? We can't believe how stinking cute this Mini Snowman Pinata is from Lindsay at Artsy Fartsy Mama.
Laura from Me and My INKlings has created an adorable and Reusable DIY Stenciled Gift Bag and is sharing the free printable file, too!
Download and print the cutest set of Christmas Sticker Tags hand drawn by Liz of Liz on Call. Since they are stickers, they won't fall off the presents!
Heather from Homemade Heather loves to bake. These Snowflake Cookies and Winter Gift Tags are perfect for gift-giving this holiday season!
Wishing everyone a Merry Christmas is easy with Free Printable Gift Tags created by Blanca of Creativities Galore!
Michelle of Michelle's Party Plan-It is sharing a fun and festive set of Snowmen Money Holders that she
created with her Cricut.
Personalize your Holiday Gift Bags with this fun tutorial from Candice of She's Crafty. A fun activity to make with the kiddos on a cold afternoon!
Jane from DIY by Jane is teaching everyone how to make elegant Embroidered Holiday Gift Tags that are also quick and easy!
We love gifts that work double duty. This Handmade Woodland Gift Wrap with Gift-able Ornament is a brilliant idea shared by Beth of the Ruffled Daisy.
Diana from the Girl Creative is sharing simple and sophisticated Rustic Farmhouse Printable Christmas Gift Tags that timeless and budget friendly.
If you need a super easy trick for Packaging and Presenting Homemade Jewelry Gifts. Marissa from Rae Gun Ramblings has you covered with a simple tutorial.
Sharing is Caring! Pin it for Later
Too busy to make this quick and easy set of Free Print and Color Holiday Gift Tags right now? Pin it for later!  I'd love for you to pin my project to your favorite craft board on Pinterest and then it'll be waiting for you when you're ready.
Thanks for stopping by!