DIY Christmas Wrapping Paper Ideas with Tombow
Create DIY Christmas Wrapping Paper Ideas quickly and easily with Tombow Dual Brush Pens! I love creating with items that I have on hand, it is a challenging and easy way to get the kiddos involved (or just save all the fun for yourself, I won't tell!)  I am going to create three styles of Christmas Wrapping Paper with my Dual Brush Pens and a roll of plain white paper from Dollar Tree, so let's get started! I am sharing today as part of the Team Creative Crafts Gift Wrapping Crafts Edition, and I love to see all of the creative inspiration!
How to Make Christmas Wrapping Paper
This week I am co-hosting Team Creative Crafts Creative Gift Wrap and Tag Edition with my crafty friends Laura from Laura Kelly Designs, and Lindsay from Artsy-Fartsy Mama. We are featuring ALL the fabulously colorful and cute craft projects from some of the most talented designers we know. Check out my tutorial, then scroll down to see all the creativity, AND stop back on Saturday to see what everyone has created!
This post, DIY Christmas Wrapping Paper Ideas with Tombow Dual Brush Pens, contains affiliate links. Using links to these sites means I will earn a percentage of the purchase at no extra cost to you.
Easy Handmade Wrapping Paper Supplies:
How to Make Dollar Tree Christmas Wrapping Paper:
Hand Lettered Wrapping Paper
To begin the DIY Christmas Wrapping Paper Ideas, gather all supplies. A roll of plain white butcher paper is the perfect surface to create wrapping paper for any occasion. Dollar Tree always has rolls of white and brown paper to use as a base, so it's a cost-effective alternative with a custom look.
Cut a section of butcher paper and lay it out on a flat surface. Starting in the top left corner, handwrite MERRY CHRISTMAS diagonally in alternating colors of bright red and green. My go-to Christmas colors are 847 Crimson and 245 Sap Green. They just scream Merry Christmas, don't you think?
Now, this is not modern calligraphy or perfect hand lettering, instead, it is simply my unrefined mix of handwriting and printing. Don't get hung up on perfection, but rather let go and have FUN! Think up other sayings that could be placed on wrapping paper such as Seasons Greetings, Joy to the World, or Feliz Navidad. Personalize the wrapping paper with the recipient's name or change up the colors for some Happy Chanukkah. Get the kiddos involved and just create!
Plaid Wrapping Paper
To continue on to the second DIY Christmas Wrapping Paper Ideas, gather all supplies. Plaid has always been the go-to for the guys in my life, and the muted palette from the Holiday 10 Pack of Dual Brush Pens is a perfect match.  Cut a section of butcher paper and lay it out on a flat surface.  Start off with an approximately two-inch square grid of 847 Crimson, then add a second square grid with 228 Gray Green with the side of the brush tips of the Dual Brush Pens.  This creates a basic windowpane plaid.  Add wide strokes of 026 Yellow Gold to the right of the Crimson and 526 True Blue to the right of the Gray Green. 
Using the bullet tip add thin lines to fill in the rest of the plaid pattern with the remaining colors 177 Dark Jade, 837 Wine Red, and 249 Hunter Green from the Dual Brush Pen Holiday 10 Pack. Now, I didn't measure and mark my plaid pattern, I just started drawing, but you certainly could if you want to. Experiment with different colors, patterns, and line widths to create some personalized Plaid Christmas Wrapping Paper. And, remember that plaid can be applicable to many different types of special occasions such as Birthdays, Anniversaries, and even Valentine's Day. I always wrap plaid paper on the diagonal for added interest.
Doodled Wrapping Paper
To create the third DIY Christmas Wrapping Paper Ideas, gather all supplies. This last technique is definitely my favorite because I love to doodle!  Cut a section of butcher paper and layout on a flat work surface.  Holly berries and leaves are a simple, yet iconic symbol of Christmas, so start with groups of three red berries using 847 Crimson.  Add pointed leaves in between the berries using 245 Sap Green.  Don't worry about being precise, keep the shapes loose, and the coloring random.  Once the butcher paper is full, outline all of the holly berries and leaves with the bullet tip of the MONOTWIN Permanent Marker using flowing and sketchy lines. 
You can stop at this point, but I wanted to fill in some of the white spaces that happened in my random design. Stars were the perfect solution! Draw some random stars with Dual Brush Pen 025 Light Orange and the outline with the MONOTWIN Permanent Marker. Variations on this doodle theme are endless, think stockings, candy canes, Christmas trees, and even angels or Santa! The doodle options are only as limited as your imagination.
Dual Brush Pens make DIY Christmas Wrapping Paper Ideas Easy!
I recommend using Tombow Xtreme Permanent Adhesive to wrap all the presents in the custom DIY Christmas Wrapping Papers. It is five times stronger than standard adhesive runners and provides a clean, finished package.
Experiment with what you have on hand and get the kiddos involved for a fun family time. I hope you have a colorful and crafty rest of your Summer! Share your DIY Christmas Wrapping Paper designs and tag me on Facebook and Instagram I can't wait to see what y'all create!
Now it's time for some INSPIRATION!
Below are more projects created by some of my craftiest designer friends. We are participating in the Team Creative Crafts – Gift Wrap Crafts Edition. Scroll down to see all the goodness. Stop back by Saturday for all the super cool projects!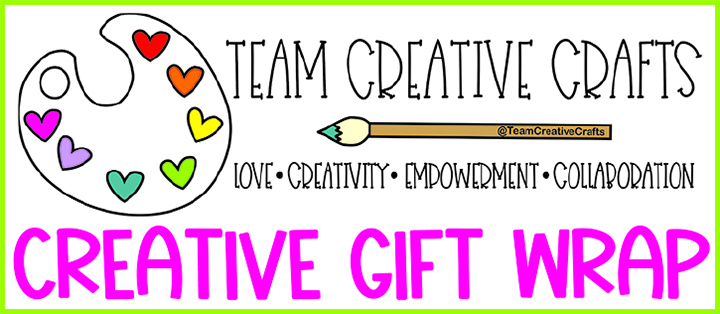 Awesome Gift Wrap and Tag Craft Inspiration from Team Creative Crafts
I am totally blown away by the fabulous variety of projects that the team created this month. We told everyone "Wrapping Crafts, Anything Goes" and we have not been disappointed! And look at all the FABULOUS projects!
Creative Gift Tags and Wrapping Crafts
Laura from Me and INKlings has created the most adorable Felt Gift Card Holder with a pocket for the card AND a pocket for a little surprise as well!
Did you ever wonder How to Wrap Gifts with Fabric instead of paper? Well, Smitha from Smiling Colors has a fun tutorial complete with hand-lettered gift tags!
Justine from Little Dove is sharing How to make an English-style Christmas Cracker your guests will love! Perfect for all your parties this holiday season.
Learn how to make a Crocheted Stocking Gift Card Holder from Erica at 5 Little Monsters. We love that she always includes step-by-step patterns!
Katie the Crafty Blog Stalker will teach you how to make Personalized Santa Sacks with a Free SVG file! Perfect for all the kiddos on your Christmas List.
Create Personalized Gift Bags this holiday season with a complete step-by-step tutorial from Chelly at We Can Make That!
Beth with Creatively Beth is sharing three ways to create DIY Handmade Wrapping Paper with Tombow Dual Brush Pens.
Learn how to make Free Printable Paper Bows with her exclusive downloadable file from Lindsay at Artsy Fartsy Mama – BRILLIANT!
Sharing is Caring! Pin it for Later
Too busy to make this quick and easy trio of Christmas wrapping papers right now? Pin it for later! I'd love for you to pin my project to your favorite craft board on Pinterest and then it'll be waiting for you when you're ready.
Thanks for stopping by!