How to Tie Dye Paper with Markers to Create a Unicorn Wand
My crafty friend, Marie taught me How to Tie Dye Paper with Markers several years ago, and there's been no turning back! Tombow Dual Brush Pens are water-based and so versatile. This is an inspirational technique that can be used to create a Magical Unicorn Wand. Be careful, though because the splash technique is extremely addictive!
Tie Dye Paper with Markers to Create a Magical Unicorn Wand
This week I am co-hosting Team Creative Crafts Tie Dye Crafts Edition with my crafty friends Laura from Laura Kelly Designs, and Lindsay from Artsy-Fartsy Mama. We are featuring ALL the fabulously colorful and cute craft projects from some of the most talented designers we know. Check out my tutorial, then scroll down to see all the creativity, AND stop back on Saturday to see what everyone has created!
This post, How to Tie Dye Paper with Markers, contains affiliate links. Using links to these sites means I will earn a percentage of the purchase at no extra cost to you.
Here's what you need to make a Magical Unicorn Wand with Tie Dye Paper:
Wooden Dowel
Glitter – Purple
Plastic Zipper Sandwich Bags – three (3)
Paper Towels and/or Old Towel
Baby Wipes
Plain Piece of Printer Paper
MAGICAL UNICORN WAND PATTERN SHEET – download below ⇓
Here's how to Create Tie Dye Paper:
STEP ONE
To begin this tutorial, How to Tie Dye Paper with Markers, gather all supplies. Layout some paper towels (or an old towel) to protect the work surface. Measure and cut rayon seam binding into three 72″ lengths. Scribble Dual Brush Pen color of choice from the Galaxy 10 Pack on the Blending Palette. Spray the seam binding ribbon and the ink lightly with the Tombow Mister. Turn a plastic zipper bag inside out to use as a "glove" and smoosh the seam binding into the watered-down ink until all the color has been absorbed. Pick up seam binding, place on paper towels or old towel, and let dry (about 20 minutes). Use baby wipes to clean the Blending Palette in between colors. Repeat the above steps and create a second, and third color of ribbon. I like Dual Brush Pens 725 Rhodamine Red, 443 Turquoise, and 606 Violet.
STEP TWO
Scribble three to five colors of Dual Brush Pens from the Galaxy 10 Pack randomly on the Blending Palette, spray lightly with water using the Tombow Mister, then place glossy inkjet photo paper shiny side down in the watered-down ink. Press and shift the paper slightly with your fingers. Carefully lift photo paper up from the corner to reveal the MAGIC of this tie dye technique! The ink dries instantly on the glossy inkjet photo paper and creates a beautiful watercolor effect, just blot the residual water away with a paper towel. Repeat with the remaining pieces of photo paper. I love the 4″ by 6″ glossy inkjet photo paper because it fits perfectly on the Tombow Blending Palette. This tie dye technique works best with the brighter and darker colors of Dual Brush Pens. Mix and match colors to create your own personalized combination.
STEP THREE
Download and print the MAGICAL UNICORN PATTERN SHEET below ⇓ Cut out and trace the unicorn on the back of the splash technique photo paper, then flip the pattern over and trace a second unicorn using the fine tip of the MONO Twin Permanent Marker. Cut out neatly with scissors, cutting away the outline, so you have two clean final unicorn patterns. Tracing mirror images of the same pattern will allow the edges of the shape to match up.
AND, for an additional idea, here is a photo and patterns for a Tie Dye Butterfly Wand made the same way, but with the Dual Brush Pen Tropical 10 Pack!
STEP FOUR
Draw a closed eye with eyelashes on each Unicorn with the fine tip of the MONO Twin Permanent Marker. Place plain printer paper down on the work surface. Apply MONO Multi Liquid Glue to the Unicorn horn, sprinkle with purple glitter, then tap the excess off onto the plain paper, and repeat with the second horn. Fold the paper and funnel excess glitter back into its container. Set aside to dry (about 15 minutes).
STEP FIVE
Color the wooden dowel with the Dual Brush Pen color of choice from the Galaxy 10 Pack. I selected 725 Rhodamine Red for the dowel and 443 Turquoise for the ball on the end. When coloring non-traditional surfaces like the wooden dowel, use the side of the brush, so as to not fray the tip.
STEP SIX
Once glitter is dry, flip the first Unicorn over, and run a line of MONO Multi Liquid Glue down the center. Place the end of the dowel into the glue and set it aside to dry. Apply Foam Tape to the center and edges of the unicorn. Remove the liner paper and carefully attach the unicorns together, lining up the edges, and sandwiching the wooden dowel in the middle. Trim any excess photo paper with scissors. I colored the back of the unicorns with 443 Turquoise so the edges would disappear.
STEP SEVEN
To finish the tutorial How to Tie Dye Paper with Markers, punch eight to nine holes along the back of the Unicorn's neck with a heart-shaped hole punch. Measure and cut each color of seam binding ribbon into three 24″ lengths. Fold each length of seam binding ribbon in half, thread each loop through each hole, then feed the ends through the loop, and gently tighten to secure. This creates the unicorn's mane. I love the light and dark areas that happen on the ribbon as it dries. The rayon seam binding is the perfect way to customize ribbon for every project!
How to Tie Dye Paper with Markers
This tutorial How to Tie Dye with Tombow Markers to create a Magical Unicorn Wand would make the perfect party favor or finishing touch to a costume! What colors would make YOUR unicorn magical?
Now it's time for some INSPIRATION!
Below are more COLORFUL projects created by some of my craftiest designer friends. We are participating in the Team Creative Crafts Tie Dye Crafts Edition. I cannot believe ALL of the inspirational and unique craft projects that my talented designer friends have created! Now scroll down to see all the goodness. Stop back by Saturday for all the super cool projects!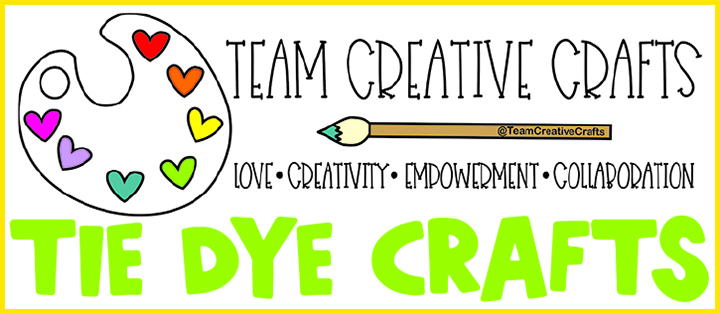 Awesome Tie Dye Craft Inspiration from Team Creative Crafts
I am totally blown away by the fabulous variety of projects that the team created this month. We told everyone "Tie Dye Crafts, Anything Goes" and we have not been disappointed! And look at all the FABULOUS projects!
Inspiring Tie Dye Crafts
Laura from Me and My INKlings has created a bright and colorful Rainbow Tie Dye Tote Bag
Smitha from Smiling Colors is sharing How to Throw a Tie Dye Party, perfect for Summer
Shani from Sunshine and Munchkins has created a rainbow Tie Dye Banner
Laura from Laura's Crafty Life has a full tutorial on How to Tie Dye Tote Bags
Justine from Little Dove has created a reusable Tie Dye Fabric Wrapping Paper
Erica from 5 Little Monsters is sharing Shibori Inspired Tie Dye Swaddle Blankets
Kelsey from Poofy Cheeks has created a Tie Dye Sublimation Tumbler for Mom
Creative Tie Dye Crafts and Recipes
Beth with Creatively Beth is sharing How to Tie Dye Paper with Markers to make a Unicorn Wand – THAT'S ME!
Lindsay from Artsy Fartsy Mama has created a gorgeous and colorful Ice Tie Dye Hoodie
Liz from Liz on Call is sharing a set of groovy Tie Dye Stickers created with her cutting machine
Kimberly from Crafting Cheerfully has created a fun and vibrant Tie Dye Chalkboard Signs
Ginger from Ginger Snap Crafts is sharing a super cute pair of Tie Dye Sneakers for Summer fun
Elise from Polka Dotted Blue Jay has created a Tie Dye Gift Bag, perfect for all the groovy gifts
Heather from Homemade Heather is sharing the recipe for yummy Tie Dye Fruity Pebble Bars
Since You Are Still Here Scrolling Let's do a GIVEAWAY!
You know that we never let you leave these monthly collaborations without the chance to win some crafty swag! We have an AWESOME Prize Package from Tulip Color Craft – a HUGE 36-piece Tie Dye Party Kit, enter through the Rafflecopter widget below to WIN!
a Rafflecopter giveaway
Sharing is Caring!
Too busy to make Tie Dye Magical Unicorn Wand right now? Pin it for later! I'd love for you to pin this project to your favorite craft board on Pinterest and then it'll be waiting for you when you're ready.
Thanks for stopping by!