13+ of the Best Tie Dye Crafts
I have gathered up 13+ of The Best Tie Dye Crafts to share with you today! Can you believe that Summer is about to be here? I can't, but I am so ready for some warm weather crafts, beachy inspiration, and any excuse to get creative! In the meantime, let's round up this past week's Team Creative Crafts Collaboration with Laura from Me and My Inklings, and Lindsay from Artsy Fartsy Mama because it has been SO MUCH FUN!
We Are Team Creative Crafts
Let me introduce you to two of my craftiest and dearest friends.
Laura of Me and My INKlings has the biggest heart, the most creative spirit, and just wrote a book Kindness on Purpose, and makes the cutest stickers, notepads, and cards in her online shop! Plus a new craft line with Therm-O-Web.
Lindsay of Artsy-Fartsy Mama is uber-talented with resin, paint, polymer clay, and fabulous sewing projects. She also has a huge library of free printables and SVG files.
And, I'm Creatively Beth and I love to tackle anything and everything creative especially doodling, hand-lettering, kids' crafts, and free hand-drawn printable files!
This post, The Best Dyed Crafts, contains affiliate links. Using links to these sites means I will earn a percentage of the purchase at no extra cost to you.
Awesome Craft Inspiration from Team Creative Crafts
I am totally blown away by the fabulous variety of projects that the team created this month. We told everyone "Tie Dye Crafts, Anything Goes" and we have not been disappointed! And look at all the FABULOUS projects!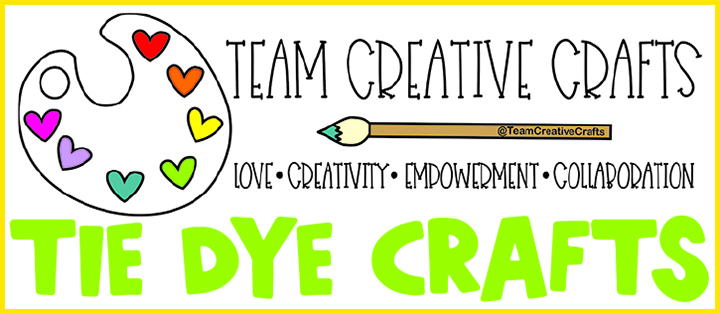 Below are more of the most COLORFUL and BEST Tie Dye Crafts projects created by some of my craftiest designer friends. I cannot believe ALL of the inspirational and unique craft projects that my talented designer friends have created! Now scroll down to see all the goodness.
The Most Colorful Inspiration
Laura from Me and My INKlings has created a bright and colorful Rainbow Tie Dye Tote Bag
Smitha from Smiling Colors is sharing How to Throw a Tie Dye Party, perfect for Summer
Shani from Sunshine and Munchkins has created a rainbow Tie Dye Banner
Laura from Laura's Crafty Life has a full tutorial on How to Tie Dye Tote Bags
Justine from Little Dove has created a reusable Tie Dye Fabric Wrapping Paper
Erica from 5 Little Monsters is sharing Shibori Inspired Tie Dye Swaddle Blankets
Kelsey from Poofy Cheeks has created a Tie Dye Sublimation Tumbler for Mom
The Most Colorful Creativity
Beth with Creatively Beth is sharing How to Tie Dye Paper with Markers to make a Unicorn Wand
Lindsay from Artsy Fartsy Mama has created a gorgeous and colorful Ice Tie Dye Hoodie
Liz from Liz on Call is sharing a set of groovy Tie Dye Stickers created with her cutting machine
Kimberly from Crafting Cheerfully has created a fun and vibrant Tie Dye Chalkboard Signs
Ginger from Ginger Snap Crafts is sharing a super cute pair of Tie Dye Sneakers for Summer fun
Elise from Polka Dotted Blue Jay has created a Tie Dye Gift Bag, perfect for all the groovy gifts
Heather from Homemade Heather is sharing the recipe for yummy Tie Dye Fruity Pebble Bars
Since you are Still here Scrolling, let's do a Giveaway!!
You know that we never let you leave these monthly collaborations without the chance to win some crafty swag! We have an AWESOME Prize Package from Tulip Color Craft – a HUGE 36-piece Party Kit, enter through the Rafflecopter widget below to WIN!
Enter below for the chance to WIN!
a Rafflecopter giveaway
The 13+ BEST Tie Dye Crafts!
It has been super fun sharing 13+ Tie Dye Crafts! Thanks for crafting with us this week! And stay tuned for the next edition of Team Creative Crafts to see what Laura, Lindsay, and I have up our crafty sleeves. I know I can't wait. Here at Team Creative Crafts we believe in collaboration over competition. If you are looking for a group committed to helping you feel inspired to create ALL. THE. THINGS. and find Joy in doing it, you've come to the right place and we are so glad that you're here.
Sharing is Caring!
Too busy to make 13+ of the BEST Tie Dye Crafts right now? Pin it for later!  I'd love for you to pin these projects to your favorite craft board on Pinterest and then it'll be waiting for you when you're ready. Enjoy the Team Creative Crafts round up and create something wonderful and unexpected soon! If you do, tag me on social media @CreativelyBeth as I would LOVE to see what you have made!
Thanks for stopping by!