Free Printable Ghost Tags for Candy Corn Treat Cups
Download Free Printable Ghost Tags for Candy Corn Treat Cups for some Halloween Party FUN! Some simple supplies from my favorite Dollar Tree make a sweet and cute candy corn container for teens and tweens to craft on a budget. The perfect hostess, teacher, or neighbor gift for this spooky season. I am sharing today as part of the Team Creative Crafts Halloween Party Crafts Edition, so stop back by to see all of the creative inspiration!
Candy Corn Treat Cups with Free Printable Ghost Tags
This week I am co-hosting Team Creative Crafts Halloween Party Crafts Edition with my crafty friends Laura from Laura Kelly Designs, and Lindsay from Artsy-Fartsy Mama. We are featuring ALL the fabulously colorful and cute craft projects from some of the most talented designers we know. Check out my tutorial, then scroll down to see all the creativity, AND stop back on Saturday to see what everyone has created!
This post, Candy Corn Treat Cups with Free Printable Ghost Tags, contains affiliate links. Using links to these sites means I will earn a percentage of the purchase at no extra cost to you.
Here's what you need to make Candy Corn Treat Cups:
Here's how to Download Free Ghost Tags:
STEP ONE
To begin the Candy Corn Treat Cups with Free Printable Ghost Tags, gather all supplies. A biodegradable peat pot was used for this craft because it won't break if dropped, but you can use a paper Mache flowerpot, clay, or terra pot for this craft as well. I found these peat pots in packs fo four at Dollar Tree.
STEP TWO
Paint the inside and base of the peat pot with Titanium White acrylic paint. Paint a center band of the pot with Jack-O-Lantern Orange acrylic paint. Paint the top band of the pot with Mustard Yellow acrylic paint. Since these peat pots are porous, apply a second coat of paint, and then set them aside to dry.    
STEP THREE
Using a standard 1/4″ hole punch, punch two holes opposite each other into both pots. Measure and cut two eight-inch lengths of black and white gingham ribbon. Fold the ends in and then thread through the holes. Straighten out the ribbon and then cut a notch in the ends with scissors. I love the finished look that ribbon notches provide but they also prevent the ribbon from fraying. Secure the ribbon ends in the holes with a dot of hot glue.
STEP FOUR
Download and print the FREE PRINTABLE GHOST TAGS below ⇓ onto white cardstock. Cut out with scissors and add faces to the blank tags with a permanent black marker like the MONO Twin from Tombow. Tie ribbons into small bows and attach them to the ghost tags with a glue gun and glue sticks. Add a note on the back of the ghost tag with a marker. I love the contrast that the purple and black ribbons give this project.
STEP FIVE
Attach the free printable ghost tags to the candy corn treat cups with a glue gun and glue sticks. Add crinkle paper to the treat cups and then add your favorite Halloween candy for a spooky sweet gift. Are you team YUM candy corn or team YUCK candy corn? I am team YUCK, so these will make perfect gifts!
Free Printable Halloween Ghost Tags for Candy Corn Treat Cups
Halloween parties are a fun time to gather with family and friends to share some spooky fun costumes, games, and treats! Check out all of the FA-BOO-LOUS Halloween Party decorations, crafts, goodie bags, party favors, free printables, and SVG files that the Team Creative Crafts Designers have dreamed up and shared with everyone today. I am totally impressed and am going to use quite a few of these inspirational projects for my Halloween Party this year!
Now it's time for some INSPIRATION!
Below are more projects created by some of my craftiest designer friends. We are participating in the Team Creative Crafts – BLANK Crafts Edition. Scroll down to see all the goodness. Stop back by Saturday for all the super cool projects!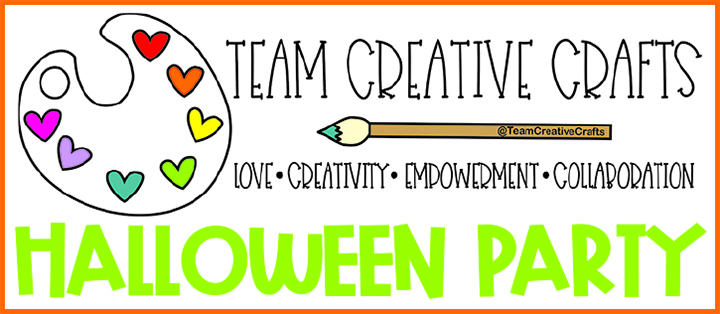 Awesome Halloween Party Craft Inspiration from Team Creative Crafts
I am totally blown away by the fabulous variety of projects that the team created this month. We told everyone "Halloween Party Crafts, Anything Goes" and we have not been disappointed! And look at all the FABULOUS projects!
Inspiring Halloween Party Crafts
Laura from Me and My INKlings is sharing quick and easy Polymer Clay Black Cat Earrings that would make the PURR-FECT party favor on Halloween night.
Sweet not spooky is the theme for this set of Halloween Treat Bag Tags created by Laura of Laura's Crafty Life. Pumpkins are our favorite!
Shani from Sunshine and Munchkins always has the best activities for the kiddos, and her Halloween Popsicle Stick Puzzle does not disappoint.
Download and print a full set of Halloween Party Printables with a Batty theme! Kelsey over at Poofy Cheeks has the entire party covered!
Katie, the Crafty Blog Stalker has taken some simple supplies from the dollar store and transformed them into a Light Up Jack-O-Lantern perfect to greet guests at your front door.
Wrangle your treats in one place this October 31st with Halloween Party Treat Bag Printables from Chelly at We Can Make That!
Jane from DIY Jane has created a magical Halloween Party Table Topper to give your décor a fabulous finishing touch.
Create the perfect party favor with Lindsay from Artsy Fartsy Mama and her tutorial for a Halloween Heishi Bracelet Set. Love the bright colors!
Beth with Creatively Beth (THAT'S ME!) is sharing a quick and easy Candy Corn Treat Cup with Free Ghost Tag Printable that will make a yummy party favor.
Since You Are Still Here Scrolling Let's do a GIVEAWAY!
You know that we never let you leave these monthly collaborations without the chance to win some crafty prizes! Marissa from Rae Gun Ramblings has generously donated one of her Halloween Costumes! Enter through the Rafflecopter widget below to be eligible to WIN!
a Rafflecopter giveaway
Sharing is Caring! Pin it for Later
Remember, today is day one! So, stop back by on Friday and Saturday for more creativity. I promise you won't be disappointed, but rather inspired! And, check out Day One of Creative Crafts Halloween Party Crafts. Too busy to make this right now? Pin it for later!  I'd love for you to pin my Candy Corn Treat Cups with Ghost Tag Printable to your favorite craft board on Pinterest and then it'll be waiting for you when you're ready.
Thanks for stopping by!