Easy Clay Pot Apple for Teacher a 30 Minute Craft
Create an Easy Clay Pot Apple for Teacher that is the perfect container to hold some sweets and a gift card. Teachers give so much of themselves to our children, so thank them with this quick and easy 30-minute craft.
A handmade flowerpot apple is a gift that you can make with your kiddos and will hold a special place in your Teachers' hearts for years to come. Whether it's back to school, teacher appreciation, or just a surprise thank you, this easy craft can be filled with all the special treats!
All of the materials, supplies, and instructions are included below.
Flowerpot Apple the Perfect Teacher Gift
This post, Easy Clay Pot Apple for Teacher, contains affiliate links. Using links to these sites means I will earn a percentage of the purchase at no extra cost to you.
What do you need to make Clay Pot Apples?
How do you make an Apple from Flowerpots?
STEP ONE
To begin the Easy Clay Pot Apple, gather all supplies. Basecoat the clay pots and saucers with Country Red paint. Apply a second coat, if necessary, and then set aside to dry. The paint will soak into the unfinished terra cotta clay, so you will need more paint than you normally would. I love Americana Acrylics from DecoArt because they have one-coat coverage on most surfaces.
STEP TWO
Cut leaf shapes from Olive and Kelly Green Felt that are approximately 2″ wide by 3″ to 4″ long. Start with an oval and cut the ends to points. You can also draw leaf patterns on paper and then cut them out with scissors and trace them onto the felt prior to cutting.
STEP THREE
Accent the felt leaves with fun and funky patterns with Foliage Green acrylic craft paint. Polka dots and plaid are easy patterns to duplicate. For polka dots, dip a new pencil eraser in acrylic craft paint and dot it onto the leaf. For stripes and plaids, use the edge of the paintbrush and gently stamp onto the felt for best results. Experiment on scrap felt first.
STEP FOUR
Basecoat the wooden finial and spool with Dark Chocolate acrylic craft paint. Apply a second coat, if necessary, and set aside to dry. Insert the wooden items on the end of a pencil for easy painting. TIP: Use a stick from the yard instead of the wooden finial or spool.
STEP FIVE
Apply a dot of glue from a glue gun to the base of each leaf and pinch to create dimension. This will give the leaves some shape when attached to the top of the apple.
STEP SIX
Attach the wooden stem to the top center of the flowerpot saucer with a glue gun and glue sticks. You can also use liquid craft glue, but you will have to wait for it to dry.
STEP SEVEN
Cut assorted ribbons, lace, and twines in different shades of green to approximately 6″ long. Tie the assorted trims together in a knot and glue them to the front center of the apple stem. Trim any long ends with scissors. This is a great way to use up scraps from your ribbon stash.
STEP EIGHT
To finish the Terra Cotta Flowerpot Apple craft, layer the Olive Green and Kelly Green leaves together, and then attach them to the base of the wooden stem using a glue gun and glue sticks.
Quick and Easy Clay Pot Apple Teacher Gift
Taking time to create something (anything) handmade like this Easy Clay Pot Apple with your kiddos is a win, win, win. A win for you spending time with your kiddos, a win for your kiddos learning an important lesson to give back, and a win for the Teacher to know that they are an important part of your child's growth and development.
Fill with tissue paper or paper shred, candy, and a gift card. Whatever your kiddos Teachers love, the possibilities are endless!
More Back to School Crafts and Free Printables
Below are more projects created by some of my craftiest designer friends. We are participating in the Team Creative Crafts – Back to School Edition. Scroll down to see all the goodness. Stop back by Saturday for a round-up of all the super cool projects!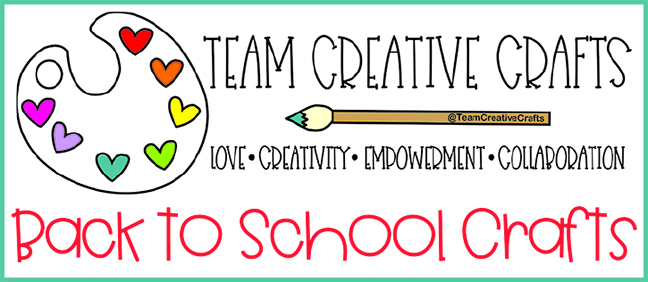 Creative Free Printables and Crafts for Back to School
How to Bake Rainbow Stack Cakes from Laura at Me and My INKlings
Back to School Color By Number Free Printable from Lindsay at Artsy Fartsy Mama
Clay Pot Apple for Teacher Craft from Beth at Creatively Beth – YOU ARE HERE!!
Free Printable Back to School I-Spy Game by Laura from Laura's Crafty Life
How to Make a Cover for a Spiral Notebook from Smitha at Smiling Colors
DIY Custom Composition Books for Back to School from Justine at Little Dove
Crocheted Shark Pencil Bag from Erica at Five Little Monsters
Back to School DIY Barbie Bag from Debra at Debra Quartermain Designs
Sharing is Caring! If you LOVE it, Please PIN it!
Too busy to make this Easy Clay Pot Apple for Teacher 30 Minute Craft right now? Pin it for later!  I'd love for you to pin this project to your favorite craft board on Pinterest and then it'll be waiting for you when you're ready.
I'd love to hear what you think about this project, or if you want to know more about Teacher Gifts. If you've made your own Clay Pot projects, I would love to see your creations! Share them on Instagram, and Facebook, or leave a comment/photo on the project pin on Pinterest! #CreativelyBeth
Thanks for stopping by!