Upcycled Crochet Thread Ball Pumpkins DIY for Fall
Create a pair of Upcycled Crochet Thread Ball Pumpkins DIY for Fall. I picked up these two balls of crochet thread at a local thrift store with some other sewing supplies knowing instantly that they would become pumpkins. These super cute and funky pumpkins are the perfect farmhouse-inspired pair for your Autumn home decor. I am sharing today as part of the Team Creative Crafts Pumpkin Crafts Edition, so stop back by on Saturday to see all of the creative inspiration!
Upcycled Crochet Thread Ball Pumpkins for Fall
This week I am co-hosting Team Creative Crafts Pumpkin Crafts Edition with my crafty friends Laura from Laura Kelly Designs, and Lindsay from Artsy-Fartsy Mama. We are featuring ALL the fabulously colorful and cute craft projects from some of the most talented designers we know. Check out my tutorial, then scroll down to see all the creativity, AND stop back on Saturday to see what everyone has created!
This post, Upcycled Crochet Thread Ball Pumpkins for Fall, contains affiliate links. Using links to these sites means I will earn a percentage of the purchase at no extra cost to you.
Here's what you need to create a Thread Ball Pumpkin:
How to Make a Pumpkin from a Thread Ball:
STEP ONE
To begin the Upcycled Crochet Thread Ball Pumpkins DIY, gather all supplies. Cotton Crochet Thread is available on Amazon, just make sure it is cotton. Squeeze 1 oz. of Canyon Orange acrylic craft paint in a 3 oz. spray bottle, fill with 2 oz. of water. Replace the cap and shake until all paint has dissolved into the water. Repeat with the Burnt Orange acrylic craft paint and the second spray bottle.
STEP TWO
Remove any labels from the balls of crochet thread. On a drop cloth or large cardboard box, spray the outside of the thread balls with the Canyon Orange and Burnt Orange acrylic craft paint. Set aside to dry. Apply a second coat, if necessary. Mix the colors slightly by very lightly spraying one color on top of the other. I love the coverage I got with the Americana Acrylics by DecoArt.
STEP THREE
Measure and cut two 12" lengths of wired twine using a ruler and wire cutters. Wrap the twine wires around a pencil, and then slide off to create vines. Stretch and bend the wire to create two pumpkin vines.
STEP FOUR
Download and print the THREAD BALL PUMPKIN LEAF PATTERN below ⇓ layer onto a scrap of Olive Green Kunin Classic Felt, and cut out two with scissors. To create dimension, apply a dot of hot glue at the base of each leaf and fold it in half.
STEP FIVE
To finish the Thread Ball Pumpkins DIY, attach a champagne cork to the front center of the hole at the top of the ball of crochet thread with a glue gun and glue sticks. Hold in place until the glue dries and cools completely. Fill in the rest of the hole with small amounts of green moss. Glue the wired twine vines and the leaves to the back of the recycled champagne cork stem. Repeat the above to finish the second pumpkin.
Upcycled Crochet Thread Ball Pumpkins DIY for Fall
Change things up by creating a variety of colors of Upcycled Crochet Thread Ball Pumpkins. Your family and friends will never know how quick and easy this trendy Autumn decor was to create! The perfect size to add to your Fall tiered tray display. A quick and easy gift to create for teachers, co-workers, neighbors, and friends. The hardest part is waiting for the paint to dry!
Now it's time for some INSPIRATION!
Below are more projects created by some of my craftiest designer friends. We are participating in the Team Creative Crafts – Pumpkin Crafts Edition. Scroll down to see all the goodness. Stop back by Saturday for all the super cool projects!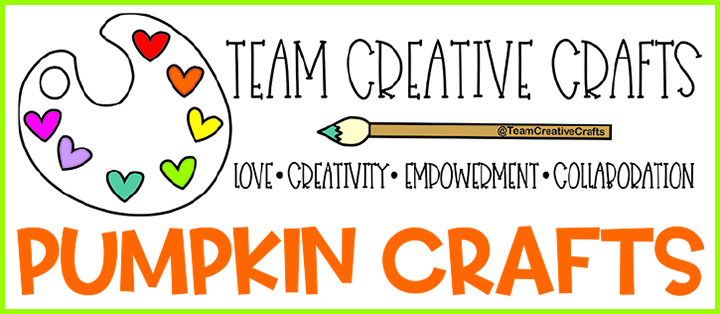 Awesome Pumpkin Craft Inspiration from Team Creative Crafts
I am totally blown away by the fabulous variety of projects that the team created this month. We told everyone "Pumpkin Crafts, Anything Goes" and we have not been disappointed! And look at all the FABULOUS projects!
Creative Pumpkin Crafts
Take adorable to the next level with Upcycled Crochet Thread Ball Pumpkins created by Beth of Creatively Beth (THAT'S ME!).
We are always in for the glam creations that Lindsay of Artsy Fartsy Mama makes with resin. Her Pastel Pumpkin Charms do not disappoint!
Liz with Liz on Call loves sharing her free printables with the world and we are all in for her modern patterned Pumpkin Coloring Sheet.
Take your water coloring skills to the next level with a fun and funky Free Pumpkin Template and Tutorial from Heather at Homemade Heather.
Blanca from Creativities Galore is all about the glitter with her sparkling DIY Pumpkin Bookmarks. Click through for the full instructions.
We love a good project that fools our eye and this Cement Look Pumpkin Cup from Candice of She's Crafty has us all doing a double take.
Transform your mantel with simple supplies from the Dollar Tree with Michelle of Michelle's Party Plan-It. Her Pumpkin Mantel Décor is elegant enough to leave up all season long.
Beth with the Ruffled Daisy shows us how to create an Aged Metal Pumpkin with simple supplies and a full tutorial.
Styrofoam balls and yarn go a long way with these simple DIY Yarn Pumpkins for your mantel or tablescape. Diana from the Girl Creative is sharing her instructions.
Marissa from Rae Gun Ramblings has created a complete tutorial covering all of her Painted Pumpkin Tips and Tricks, so check them out today.
Learn how to Create a Pumpkin Landscape by Color Matching Paint and Markers with a full tutorial from Jenny of Jenny's Crayon Collection.
Take a simple plaque to the next level with a colorful DIY Stained Wood Pumpkin created by Laura of Me and INKlings. Click through to see how she made it!
Sharing is Caring! Pin it for Later
Too busy to make this pair of Upcycled Ball of Thread Pumpkins right now? Pin it for later! I'd love for you to pin my project to your favorite craft board on Pinterest and then it'll be waiting for you when you're ready.
Thanks for stopping by!