Team Creative Crafts Craft-A-Thon Live Creative Event
Do you LOVE to craft as much as we do? Then please join us for the Team Creative Crafts Craft-A-Thon, a virtual event live streaming on Facebook with 5+ hours of crafty happiness and inspiration. There will be over 10 projects to make using a variety of mediums, supplies, tools, and techniques. The Creative Crafts girls (Me, Laura Kelly from Laura Kelly Designs, and Ann Butler from Bella Crafts Publishing) and we will be joined by Katie Berry from A Sweet Berry Designs to teach you all kinds of new fun ways to get creative.
Meet the Trio behind Team Creative Crafts Craft-A-Thon
Let me introduce you to two of my craftiest and dearest friends. Ann of Bella Crafts Publishing creates a quarterly digital magazine, has her own line of stamps, pigments, and watercolors, and is an all-around crafting goddess! Laura of Laura Kelly Designs has the biggest heart, the most creative spirit, and just wrote a book Kindness on Purpose, and makes the cutest stickers, notepads, and cards in her online shop! Katie of A Sweet Berry Designs will be joining us as well! And, me, I'm Creatively Beth and I love to tackle anything and everything creative especially doodling, hand-lettering, kids crafts, and free hand-drawn printable files!
This post, Team Creative Crafts Craft-A-Thon, contains affiliate links. Using links to these sites means I will earn a percentage of the purchase at no extra cost to you.
Team Creative Crafts Craft-A-Thon Giveaways
There will be LOADS of giveaways, like more than 50! Be sure to say YES that you are attending the Facebook Event because our first 5 winners will be announced at the beginning of the Craft-A-Thon and will be randomly selected from the group of crafters who responded YES!
Team Creative Crafts Craft-A-Thon Sponsors
We have the best sponsors. I LOVE all of these products so much and can't wait to share ways to use them in crafting and DIYs with you during the Team Creative Crafts Craft-A-Thon. Let's take a quick look at each of these wonderful companies.
DecoArt
I have been working with DecoArt paints and products since high school and I won't tell you how long ago that was! We will be sharing their new paint sets for Michaels to create Designer Finishes on different surfaces. Until then, here is one of my most favorite DecoArt projects Paint Pour Rainbow Rocks in just 15 minutes.
Laura has been working with DecoArt for just as long as I have and she ROCKS all of her painted projects. Check out one of her favorite projects Painted Kindness Rocks because kindness is always a good idea.
Kunin Felt
If you have been here for a while (or even for a short time) then you know that I am pretty crazy about felt. We will be sharing this adorable felt/fabric garland during the Craft-A-Thon. If you want to buy the felt/fabric/twine ahead of time — you can grab the kit in Laura's online shop.
This pair of fun and colorful Tooth Fairy Monster Pillows is one of my favorite projects that I have created with Kunin Felt. It is such an easy and versatile medium to create with and I have included FREE Printable Patterns!
We all LOVE Kunin Felt because it is so easy to use. Ann created the cutest Tic Tac Toe Board with bright and happy colors of Kunin Felt for her Grandlittles to play with when they come to visit!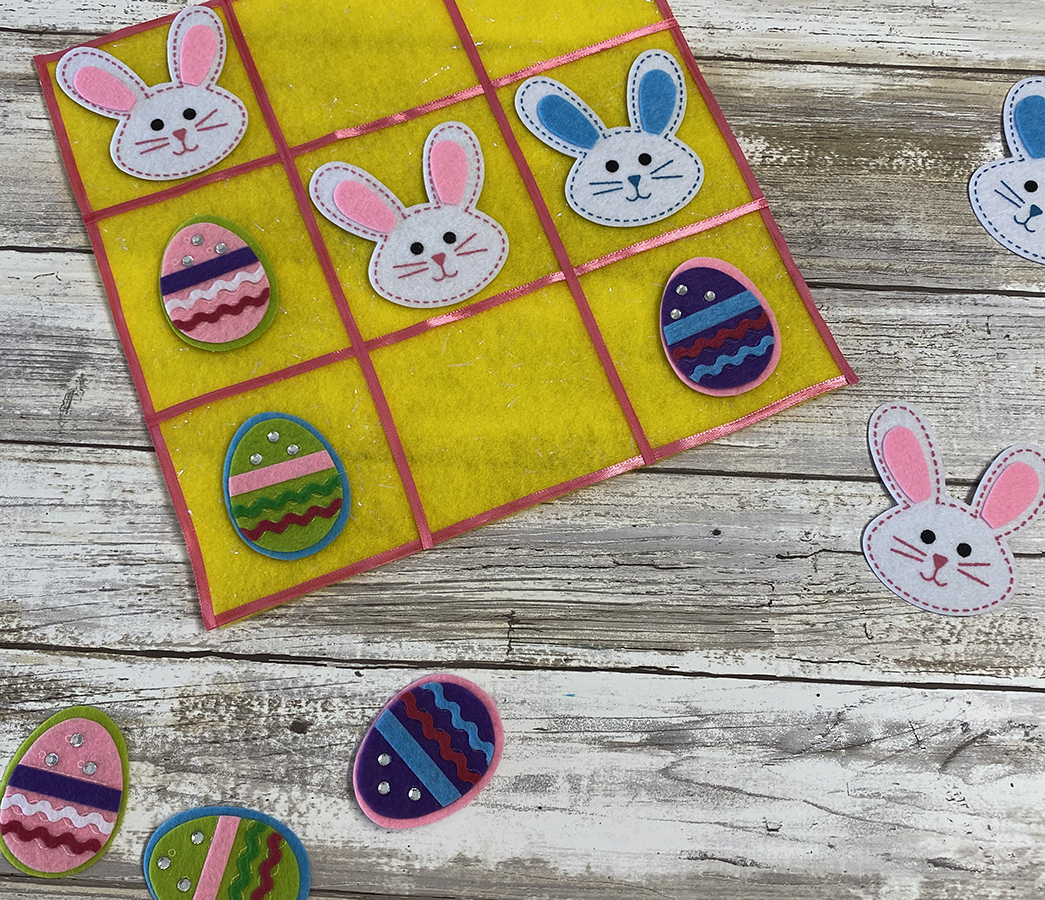 Fairfield World
All three of us work with Fairfield World because they have so many wonderful products. They are the makers of Poly-Fil stuffing, Poly-Pellets, oly*fun, and tons of other pillow forms and battings. We will be showing you several ways to use their products including filling a bean bag chair and making monsters. One of my favorite projects was turning this Wine Crate into a Storage Stool Ottoman with Fairfield World Foam.
Laura is going to show everyone how to create this huggable DIY Weighted Plush Monster during the Craft-A-Thon which is a great companion for the kiddos. Grab the monster pattern here on Laura's blog.
Ann is a sewing goddess and has created many quilts, but this Easy Rag Puff Quilt has to be my all-time favorite! Made from flannel and then each square is stuffed with Poly-Fil for a cloud-like snuggle session!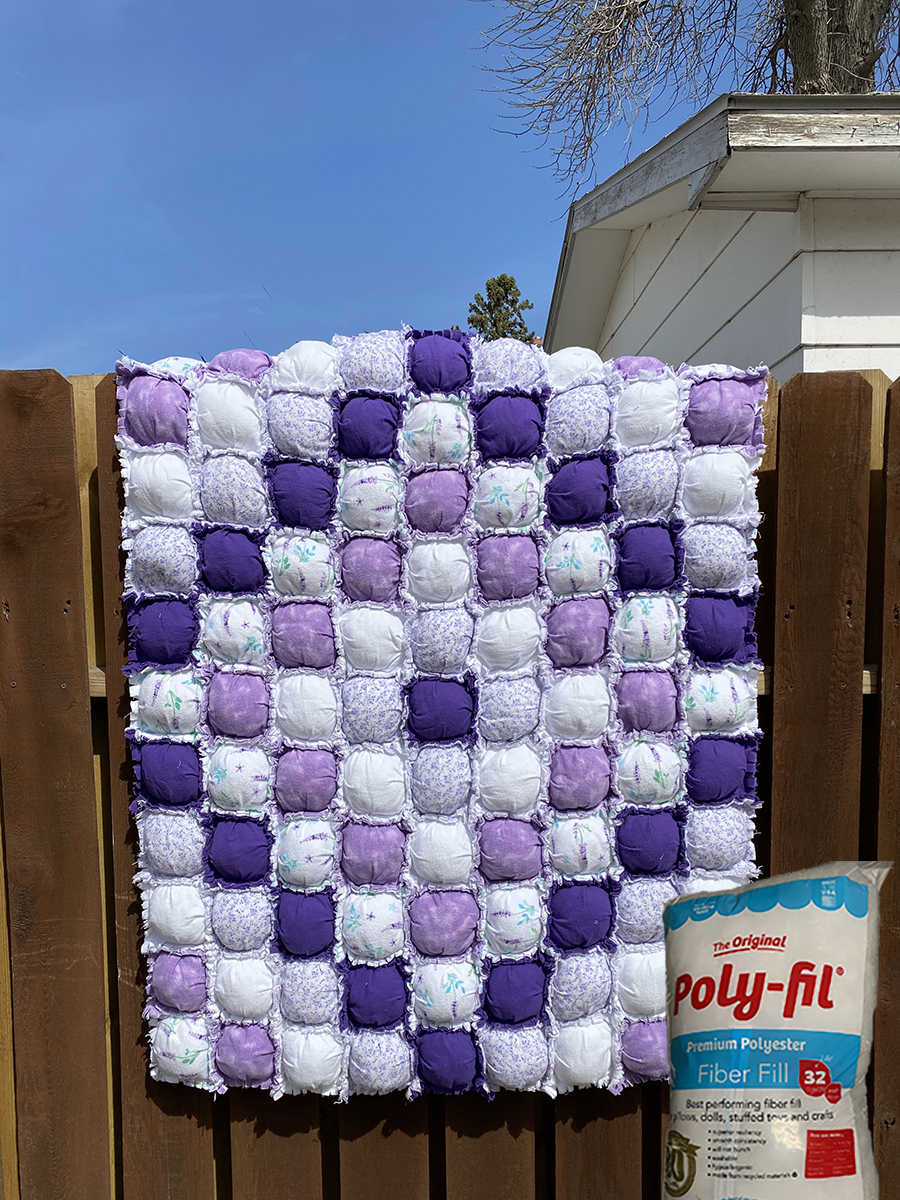 Therm-O-Web
There is some super exciting news about Therm-O-Web. Laura has a WHOLE NEW CRAFT LINE launching with them and she can barely contain her excitement. There will be foils, stamps, papers, cards with envelopes, tags, and more! Until then, here is one of Laura's favorite projects using some of their wonderful adhesives to check out.
And I can't wait to get crafty with all of Laura's wonderful new products from Therm-O-Web. I did have the opportunity to make some fun and colorful tags at a workshop with Therm-O-Web in Chicago.
Ann has her own line of Patterned Floral and Geometric Toner Papers that work perfectly with all of the fabulous Foils from Therm-O-Web. Below is a photo of the final journal project, but click through to see the video tutorial! Look at that color-shifting SHINE!
Therm-O-Web GIVEAWAY!
If you've been here for a while (and even if you haven't) we NEVER let y'all leave without a GIVEAWAY!! One lucky winner will receive this entire box of Therm-O-Web goodies!! Enter below:
a Rafflecopter giveaway
Hemtique
The best hemp cord, twine and baker's twine comes from Hemptique. We have a fun project planned for you during the Team Creative Crafts Craft-A-Thon — string art! Here is a link to a string art project that is super cute already on Laura's blog. She has a thing for carrots!
Sculpey
Polymer Clay is such a fun medium because it allows the makers to create such a huge variety of projects. During the Team Creative Crafts Craft-A-Thon, we will be teaching you how to use the Liquid Sculpey. This post of Laura's has the free printable for making kindness flowers. Until then, here is one of Laura's favorite projects. The Bake Shop clay is air-dry super easy to work with.
Xyron
We can't wait to show you how to make your own stickers with the Creative Station AND share the new glue guns from Xyron during the Team Creative Crafts Craft-A-Thon. Until then, here is a link to one of Laura's favorite Xyron Creative Station sticker projects.
For Easter last year, I did a blog post How to make Stickers from Hand-Drawn Doodles with my Xyron Disposable Sticker Maker. It was super fun and I can't wait to try out the larger Xyron Creative Station during the Craft-A-Thon.
Eclectic Products
Everyone LOVES E6000 glue, right?! We are going to make a super fun bulletin board with E-6000 AND share TONS of their awesome products with you during the Craft-A-Thon. You don't want to miss this! We will even be giving away a HUGE box of Eclectic Products goodness so definitely stay tuned. I used E6000 Fabri-Fuse Fabric Glue to Upcycle Tee Shirts with Lace. I love it because it has an almost elastic "give" that other fabric glues just don't have.
Laura used the E6000 Fabri-Fuse to attach the felt musical notes to her daughter Jordan's senior overalls and she knows it's amazing to work with, too!
We Are Ooly
Laura LOVES, LOVES, LOVES all the products that Ooly makes. While they are packaged and seem to be geared for kids, Laura loves them in so many of her favorite projects. The Chunkies Paint Sticks make the best posters with the greatest ease. Check them out here on her blog.
Ooly Chunkie's Paint Sticks are twist-up sticks of paint that dry instantly and have bright vivid colors on any surface. I used the Ooly Brilliant Markers and created some fun printables inspired by my friend, Amy Latta's book, Hand Lettering with Kids a creative workbook.
Darn Good Yarn
There are so many fabulous fiber arts projects to be made using the wonderful variety of yarns from Darn Good Yarn. We will be using the Wild Peacock Recycled Silk Yarn Worsted Weight to teach you how to make adorable tassels. Until then, check out one of Laura's favorite projects created with Darn Good Yarn on her blog because pom-poms are FUN on everything.
Emerald Creek
Ann has several products that she has dreamed up and created with Kim at Emerald Creek. The newest is Ann Butler Designs Glace Heat Set Watercolors that have a ton of sparkle and shine in them. Check out this video to see how they work and then tune in to the Craft-A-Thon to see a LIVE DEMO!
Team Creative Crafts Craft-A-Thon Schedule
We will be starting a new project every 30 minutes beginning at 1 pm EST on Saturday, April 17th. You can get all of the details in the Facebook Event! Download the complete schedule and supply list BELOW ⇓
Team Creative Crafts Gift-A-Thon
On Friday night April 16th (the eve of the Craft-A-Thon), we will be sharing our first ever Team Creative Crafts Gift-A-Thon featuring our favorite handmade makers that sell their products online (and a few of our favorite small businesses too). There is a Facebook event for that too. It will be tons of fun and filled with inspiration, connection, and MORE GIVEAWAYS!!!!
Laura has even more details on her blog. Laura, Ann, and I literally cannot wait to host this 5-hour Craft-A-Thon and we hope that you will join us! Click here to RSVP to the Craft-A-Thon and get even more details and inside information before the event!
Thanks for stopping by!