15 Minute Harry Potter Magic Wands
Learn how to make Harry Potter Magic Wands in just 15 minutes with limited supplies you already have in your craft stash; a glue gun, and paint. Upcycle those packages of wooden chopsticks that come with the takeout into a wand worthy of your favorite witch and wizard.
Recreate that special trip to Olivander's and let the wand choose the wizard! Plus download a Free Printable Beginner's Guide to Wand Motions chart when you scroll down this post.
I am sharing today as part of the Team Creative Crafts Harry Potter Edition, so stop back by on Saturday to see all of the creative inspiration!
Upcycled Chopstick Harry Potter Magic Wands
This week I am co-hosting Team Creative Crafts Harry Potter Edition with my crafty friends Laura from Laura Kelly Designs, and Lindsay from Artsy-Fartsy Mama. We are featuring ALL the magical projects from some of the most talented designers we know. Check out my tutorial, then scroll down to see all the creativity, AND stop back on Saturday to see what everyone has created!
This post, 15 Minute Harry Potter Magic Wands, contains affiliate links. Using links to these sites means I will earn a percentage of the purchase at no extra cost to you.
What do you need to Make Harry Potter Wands?
How to Create 15-Minute Magic Wands?
STEP ONE
To begin the Harry Potter Magic Wands, gather all supplies. Remove the wooden chopsticks from their paper wrapper and separate them into two pieces. Sand any rough edges with a foam sanding block. I recently discovered these foam sanding blocks at Dollar Tree and they are perfect for crafting with the kiddos!
STEP TWO
Using a glue gun and glue sticks, create a pattern at the larger end of the wooden chopstick. To retain the integrity of your pattern, rotate the chopstick slowly as the glue sets up. Either hot glue or low temp glue will work for this project. Use stripes, drips, and polka dots, and let your imagination run wild!
STEP THREE
Layer the glue to make patterns and create a chunky, thick handle. The fun part of this craft is that each wand will be totally unique. The wooden chopsticks are tapered at the end making them the perfect base for wands!
STEP FOUR
Basecoat each wand with Raw Umber, Graphite, Burnt Umber, or Dark Chocolate acrylic craft paint. Make sure to get into all the nooks and crannies of the glue design. Let dry and apply a second coat, if necessary. Set aside to dry. I love Americana Acrylics from DecoArt because they have one-coat coverage on most surfaces.
STEP FIVE
Dry brush the Raw Umber wand with Milk Chocolate, the Graphite wand with Neutral Grey, the Burnt Umber wand with Mississippi Mud, and the Dark Chocolate wand with Honey Brown acrylic craft paints. To dry brush, dip just the tip of the bristles of a dry paintbrush in the acrylic craft paint, and then lightly brush on the wand hitting only the raised areas. This will highlight the wand and give it depth.
For durability, you can seal the wands with a spray-on clear sealer (in a well-ventilated area) or brush on a decoupage medium.
Free Harry Potter Beginner's Guide to Wand Motions Printable
Download and print the Beginner's Guide to Wand Motions below and practice, practice, practice!
Quick and Easy Harry Potter Magic Wands
Upcycle those takeout chopsticks to create a magical accessory that is personalized for every wizard. Perfect for a birthday party activity or a goodie bag surprise! Remember that the wand chooses the wizard! This is a fun family craft activity to create in just about 15 minutes with limited supplies. Add a personal touch to your wand with creative colors of paint, glitter, and even jewels.
Create magical Hogwarts House Tie Bookmarks from easy-to-use Kunin Felt and free patterns. The best way to hold your place while reading the Harry Potter book series is to show your house pride by making a quick and easy Hogwarts School Tie Bookmark.
The magic of Harry Potter has enchanted me from the first words I read, so I went about capturing the mystery and enchantment in Four Magical Harry Potter Free Printable Quotes.
Additional Harry Potter Free Printables and Crafts
Below are more projects created by some of my craftiest designer friends. We are participating in the Team Creative Crafts – Harry Potter Edition. Scroll down to see all the goodness. Stop back by Saturday for all the super cool projects!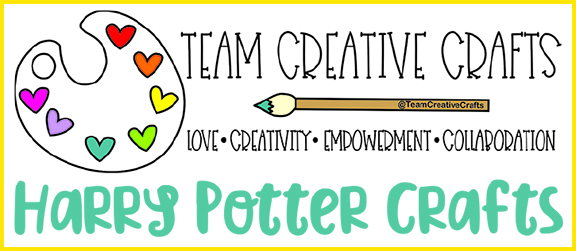 Inspiring Harry Potter Crafts
15 Minute DIY Harry Potter Wizard Wands from Beth at Creatively Beth – you are HERE!
Dark Mark Earrings from Lindsay at Artsy Fartsy Mama
Harry Potter Painted Rocks to Spread Magic from Laura at Me and My INKlings
Free Printable Harry Potter House Crest Bookmarks from Liz at Liz on Call
DIY Hedwig Owl Plush Stuffie from Debra at Debra Quartermain Designs
How to Make a Harry Potter Inspired Coffee Sign from Blanca at Creativities Galore
Free Harry Potter Color by Number Printables from Heather at Homemade Heather
Harry Potter Free Printable Potion Labels from Laura at Me and My INKlings
DIY Cornish Pixie Jars with Printable Tags from Beth at Creatively Beth – that's ME!
Stenciled Muggle Quote from Lindsay at Artsy Fartsy Mama
Sharing is Caring!
Too busy to make these 15 Minute Harry Potter Magic Wands from Chopsticks right now? Pin it for later! I'd love for you to pin this project to your favorite craft board on Pinterest and then it'll be waiting for you when you're ready.
I'd love to hear what you think about this project, or if you want to know more about Harry Potter. If you've made your own magic wands, I would love to see your creations! Share them on Instagram, and Facebook, or leave a comment/photo on the project pin on Pinterest! #CreativelyBeth
Thanks for stopping by!