Harry Potter Crafts DIY Flying Keys Free Printable Wings
I am always on the lookout for items that I can turn into Harry Potter Crafts DIY projects. Flying Keys with Free Printable Wing Patterns are perfect for a themed bedroom, birthday party, or just for FUN! I am sharing today as part of the Team Creative Crafts Harry Potter Edition, so stop back by on Saturday to see all of the creative inspiration!
Harry Potter Flying Keys with Free Printable Wings
This week I am co-hosting Team Creative Crafts Harry Potter Edition with my crafty friends Laura from Laura Kelly Designs, and Lindsay from Artsy-Fartsy Mama. We are featuring ALL the magical projects from some of the most talented designers we know. Check out my tutorial, then scroll down to see all the creativity, AND stop back on Saturday to see what everyone has created!
This post, Harry Potter Flying Keys with Free Printable Wings, contains affiliate links. Using links to these sites means I will earn a percentage of the purchase at no extra cost to you.
Here's what you need to create Dollar Tree Flying Keys:
How to make Dollar Tree Harry Potter Flying Keys:
STEP ONE
To begin the Harry Potter Crafts DIY Flying Keys, gather all supplies. Remove supplies from their packaging. This package of six laser-cut wooden keys was found with the stickers and the stamps in the craft section of Dollar Tree.
STEP TWO
Topcoat the laser-cut wooden keys with Dazzling Metallics Splendid Gold acrylic craft paint in a random fashion, allowing some of the wooden base to peek through in certain areas. Use a dabbing motion with a flat paintbrush. Let paint dry completely. The Dazzling Metallics from DecoArt have the sparkle and shine of gold leaf without the price!
STEP THREE
Download the HARRY POTTER FLYING KEYS WINGS PATTERN below ⇓ onto your computer and then print onto vellum paper with black ink. Vellum paper is transparent like tracing paper, but heavier like cardstock. The perfect paper for these wings. I love this package from Amazon because you get double the amount for half the price of the big box craft stores. Carefully cut the wing patterns out of the vellum paper with scissors.
STEP FOUR
Attach the vellum paper wings to the gold-painted laser-cut wooden keys with a glue gun and glue sticks just under the handle of the key. Mix and match the wing and key patterns for added interest. NOTE: You could use liquid craft glue for this project, but you would have to wait for it to dry.
STEP FIVE
I specifically hand drew these wings with my favorite MONO Twin Permanent Marker from Tombow to be the correct size for the Dollar Tree Wooden Keys. If you can't find these keys then look around thrift stores for old keys or this set of 40 reproduction vintage skeleton keys would be perfect.
Download Free Harry Potter Flying Keys Free Printable Wings
Quick and Easy Harry Potter Crafts DIY Flying Keys
These quick and easy wizard-inspired Flying Keys go together in just about 15 minutes with limited supplies. The perfect craft for a Harry Potter themed birthday party. Make them with the kiddos to celebrate when they finish reading The Philosopher's Stone. Add some monofilament line to the top of the keys and hang them in a themed bedroom or use them as a goodie bag gift tag.
Now it's time for some INSPIRATION!
Below are more projects created by some of my craftiest designer friends. We are participating in the Team Creative Crafts – Harry Potter Edition. Scroll down to see all the MAGIC. Stop back by Saturday for the round-up of all the super cool projects!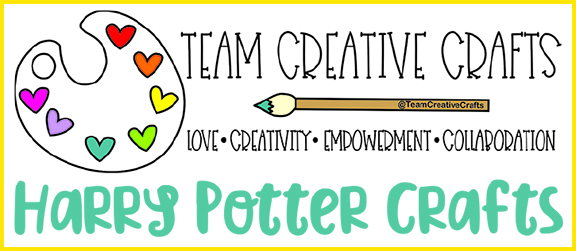 Awesome Harry Potter Inspiration from Team Creative Crafts
I am totally blown away by the fabulous variety of projects that the team created this month. We told everyone "Harry Potter Crafts, Anything Goes" and we have not been disappointed! And look at all the FABULOUS projects!
Inspiring Harry Potter Crafts
Laura of Me and My INKlings is sharing a Room of Requirement Sign. Located in Hogwarts Castle, it's a room that can only be discovered by someone who is in need. Free SVG File included in the tutorial.
Let Harry, Ron, and Hermione hold your place with a Magnetic Set of Bookmarks created by Laura of Laura's Crafty Life. Click through to discover how to make them.
Show your Hogwarts House Colors with a colorful set of Harry Potter DIY Scrunchies. The full step-by-step tutorial can be found over at Smitha's site, Smiling Colors.
Shani of Sunshine and Munchkins has created a Free Printable Patronus Fortune Teller. Let this game help you discover what your charm is based upon your happiest memories.
Download, print, and color Harry Potter Movie Night Printables featuring Hogsmeade Tickets and Gringott's Coins that the kiddos can earn, then redeem. Designed by the clever Justine of Little Dove.
Erica from 5 Little Monsters always keeps us in stitches (LOL!) with her fabulous creations. Free this adorable Crocheted House Elf Dobby by gifting him a piece of clothing. Click through for the complete pattern.
Always remember that the Wand Chooses the Wizard with this cute Harry Potter Mug created by Chelly of We Can Make That. Get the Free SVG file on her website.
No Harry Potter birthday party is complete without a DIY Flying Broom photo booth prop. You will never guess what Debra from Debra Quartermain Designs has made this one out of!
I am always on the lookout for cute Dollar Tree crafts, including these magical Harry Potter Flying Keys. Easy to create with the free printable wing pattern sheet available for download above.
These yummy Chocolate Frog Earrings look good enough to eat but don't because they are made out of resin. Lindsay from Artsy Fartsy Mama has the complete tutorial over on her blog.
Sharing is Caring! Pin it for Later
Too busy to make this Harry Potter Crafts DIY Flying Keys project right now? Pin it for later! I'd love for you to pin this to your favorite craft board on Pinterest and then it'll be waiting for you when you're ready. Remember, today is day one! So, stop back by tomorrow for more creativity. I promise you won't be disappointed, but rather inspired!
Thanks for stopping by!