Harry Potter Crafts DIY Cornish Pixie Jars
Straight out of the recycle bin, these Harry Potter Crafts DIY Cornish Pixie Jars are easy to make with my free printables. Quick and easy to create in about 30 minutes with supplies from Dollar Tree. I am sharing today as part of the Team Creative Crafts Harry Potter Edition, so stop back by on Saturday to see all of the creative inspiration!
Harry Potter Cornish Pixie Jars
This week I am co-hosting Team Creative Crafts Harry Potter Edition with my crafty friends Laura from Laura Kelly Designs, and Lindsay from Artsy-Fartsy Mama. We are featuring ALL the magical projects from some of the most talented designers we know. Check out my tutorial, then scroll down to see all the creativity, AND stop back on Saturday to see what everyone has created!
This post, Harry Potter DIY Cornish Pixie Jars, contains affiliate links. Using links to these sites means I will earn a percentage of the purchase at no extra cost to you.
Here's what you need to Make Cornish Pixies in Recycled Jars:
Recycled Glass or Plastic Jars with Metal Lids
DecoArt Decou-Page Medium – Matte
Cardstock – White, Kraft
Scissors – I love my Fiskars!
Paintbrush
Hole Punch
CORNISH PIXIE PATTERN SHEET – download at the bottom of the post ⇓
CORNISH PIXIE TAGS PATTERN SHEET – download at the bottom of the post ⇓
How to Create Light Up Cornish Pixie Jars:
STEP ONE
To begin the Harry Potter Crafts DIY Cornish Pixie Jars, gather all supplies. Wash and thoroughly dry the jars and metal lids, and then remove all labels. You can use any type or size jar as long as it is clear with a screw-on lid. Basecoat the metal lids with Lamp Black Americana acrylic craft paint. Let dry and apply a second coat, if necessary.
STEP TWO
Download and print the CORNISH PIXIE PATTERN SHEET at the bottom of the post ⇓ on plain white paper. Select the size of Cornish Pixie that best fits each jar and cut them out carefully with scissors. Coat the inside front of each jar with Decou-Page Medium (I prefer the matte finish) using a paintbrush. Apply the Cornish Pixie with the black ink side facing out and press into the Decou-Page Medium with the paintbrush. Paint on an additional coat of Decou-Page Medium, covering the back of the Cornish Pixie. Set aside to dry. The medium will turn clear once dry.
STEP THREE
Open the package of tissue paper and tear one sheet into pieces. Coat the outside of each jar with Decou-Page Medium. Lay the pieces of tissue paper into the medium, and then apply a second coat of Decou-Page Medium on top of the tissue paper layer. Place the coated jars upside down onto your work surface to dry overnight.
STEP FOUR
Screw the lids back onto the jars. Paint a bit of Galaxy Glitter Clear Ice Comet paint around the edges of Cornish Pixie images using a paintbrush and a dabbing motion. Set aside to allow the glitter paint to dry.
STEP FIVE
Download the CORNISH PIXIE TAGS at the bottom of the post ⇓ onto brown kraft cardstock. Select the tags that are the proper size for each jar. Carefully cut out with scissors and punch a hole at the top of each tag. Wrap the natural jute twine around the neck of each jar. Thread the tag onto the twine and then tie in a knot. Trim the ends of the twine with scissors.
STEP SIX
Remove the tea lights from their packaging and pull the tab out from the battery cavity. These tea lights are color-changing, which the kiddos will LOVE! Turn the tea lights on, place them in the jar, and screw on the lid.
Download the Harry Potter Cornish Pixie Jar Patterns and Tags Free Printables
Quick and Easy Harry Potter Crafts DIY Cornish Pixie Jars
Straight out of the recycle bin, these mischievous Cornish Pixies have been caught in Recycled Jars and are quick and easy to create with limited supplies. Cornish Pixies are mischief-makers. They are incredibly strong, love tricks, and playing practical jokes! These jars would make a perfect night light or a fabulous goodie bag gift for a Harry Potter inspired birthday party.
Now it's time for some INSPIRATION!
Below are more projects created by some of my craftiest designer friends. We are participating in the Team Creative Crafts – Harry Potter Edition. Scroll down to see all the goodness. Stop back by Saturday for all the super cool projects!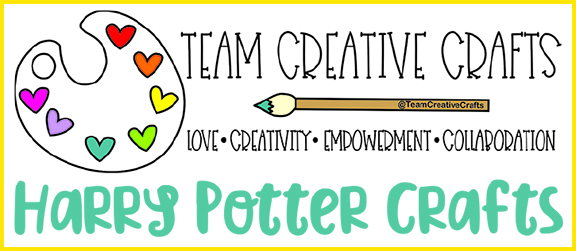 Awesome Harry Potter Inspiration from Team Creative Crafts
I am totally blown away by the fabulous variety of projects that the team created this month. We told everyone "Harry Potter, Anything Goes" and we have not been disappointed! And look at all the FABULOUS projects!
Creative Harry Potter Crafts
I'll catch a few mischievous Cornish Pixies in Jars to help Professor Glideroy Lockhart. Make sure to label them with the Free Printable Tags designed by ME! Remember to not let Pixies loose in a classroom, they are devilishly tricky blighters.
Lindsay of Artsy Fartsy Mama is super talented with polymer clay. She sculpted these adorably wicked Harry Potter Cornish Pixies and will show you how with her step-by-step tutorial. Love those iridescent wings!
Give the Master of Death symbol a feminine touch with a Floral Deathly Hallows free cut file, created by Liz of Liz on Call. The Cloak of Invisibility, Resurrection Stone, and Elder Wand combine as a symbol for true believers who quest to find the Hallows.
Always creating halfway homemade goodies, Laura from Me and My INKlings is sharing a Bowtruckle Bread with Free Bakery Printable. Fantastic Beasts' Jacob Kowalski would be proud to serve these delicious treats at his bakery!
Blanca from Creativities Galore has created Harry Potter Favor Bags that are perfect for any wizard inspired party. Fill with magical goodies and gift to that special boy or girl.
Head over to The Girl Creative to download Diana's free printable Harry Potter Word Search. A fun activity to complete after reading the books or watching the movies. A fun (and sneaky) way to work on vocabulary with the kiddos.
Candice of She's Crafty Crafty is sharing a free cut file to create your very own Harry Potter Fund Jar. Savings is an important lesson for the kiddos. What will your fund be for – books, movies, or a trip?
One of the most important words in Harry Potter is captured in this DIY Always Hat that Michelle of Michelle's Party Plan-It created with her Cricut cutting machine. 'Always' tells Dumbledore that everything Snape had done and will do is in the name of his love for Lily Potter.
For a complete reference guide, Marissa from Rae Gun Ramblings is sharing a Free Printable Harry Potter Spells List which is a must for any wizard! Click through to see how she made the coordinating magical Wand Pencils.
Jenny from Jenny's Crayon Collection is sharing Tips for Adult Coloring with a Harry Potter Book. This fabulous quote that Queenie said to Jacob in Fantastic Beasts and Where to Find Them is perfect in a rainbow of colors.
Sharing is Caring! Pin it for Later
Too busy to make these Harry Potter Crafts DIY Cornish Pixie Jars right now? Pin it for later! I'd love for you to pin my project to your favorite craft board on Pinterest and then it'll be waiting for you when you're ready. Remember, today is day two! So, stop back by Saturday for more creativity. I promise you won't be disappointed, but rather inspired! And, check out Day One of Creative Crafts BLANK Crafts.
Thanks for stopping by!