Free Printable Rainbow Quote
Do you know how there are some quotes that just speak to you? Well, there are many variations of this one, but the traditional "Life is Art, Live Yours in COLOR" is my favorite. I created this Hand Lettered Free Printable Rainbow Quote, so you can print and color one too, or print the version that I already colored for you! This quote speaks to my sense of living life to the fullest and using my creativity in all areas of my life. I love lettering classic quotes like this, so the reader can frame it and let it speak directly to them.
I am so excited to be sharing today as part of the Creative Crafts RAINBOW Crafts Edition, so stop back by Saturday to see the round-up of all of the creative inspiration!
Life is Art Live Yours in Color Wall Art
This week I am co-hosting Team Creative Crafts RAINBOW Crafts Edition with my crafty friends Laura from Laura Kelly Designs, and Lindsay from Artsy-Fartsy Mama. We are featuring ALL the fabulously colorful and vibrant ROY G BIV inspired craft projects from some of the most talented designers we know. Check out my free printable, then scroll down to see all the creativity, AND stop back on Saturday to see what everyone has created!
This post, Free Printable Rainbow Quote , contains affiliate links. Using links to these sites means I will earn a percentage of the purchase at no extra cost to you.
My Favorite Lettering Supplies:
I always get a lot of questions from my readers as to what products I like to use. So, I have gathered all of my favorite things and compiled the list below as a resource for YOU! Thank you for reading my blog and downloading printables and projects from this page. I truly appreciate each and every one of you!
Print and Color a Rainbow Quote
I have been doodling and drawing since I was a kid. In fact, I used to get in trouble sometimes for drawing on my homework. Creating the composition and hand drawing the Rainow Quote was FUN! I love drawing and tracing with the MONO Twin Permanent Marker from Tombow because it has a large bullet tip and a small extra fine tip. Download the FREE PRINTABLE BLACK & WHITE file below ⤋
Hand Lettered Rainbow Quote Art
I hope you will use this free printable as a jumping-off point to showcase YOUR creativity. My "Life is Art Live Yours in COLOR" hand lettered and hand drawn quote is fun to color with Tombow Dual Brush Pens or Tombow 1500 Colored Pencils. Get 15% OFF and FREE US Shipping by using my affiliate link. Or download the version that is already colored for some instant wall art. Download the FREE PRINTABLE COLOR file below ⤋
Now it's Time for Some Inspiration!
Below are more Fun Crafts and Free Printables inspired by all the colors of the RAINBOW and created by my craftiest designer friends. We are participating in the Creative Crafts – RAINBOW Crafts Edition. Scroll down to see all the goodness. Stop back by tomorrow for all the super cool projects!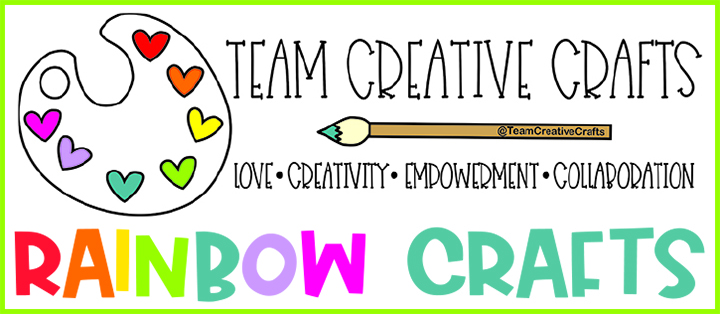 Awesome RAINBOW Craft Inspiration from Team Creative Crafts
I am totally blown away by the fabulous variety of projects that the team created this month. We told everyone "RAINBOW Crafts, Anything Goes" and we have not been disappointed! And look at all the FABULOUS projects!
Creative RAINBOW Crafts
Rainbow Resin Organizer from Lindsay at Artsy Fartsy Mama
Free Printable Rainbow Quote to Color from Beth at Creatively Beth
Easy Rainbow Cupcakes from Laura at Me and My INKlings
Rainbow Maze Free Printable from Liz at Liz on Call
Sew a Rainbow Dinosaur Stuffie from Debra at Debra Quartermain Design
Color the World Printable Tag from Blanca at Creativities Galore
Rainbow Wall Hanging from Ginger at Ginger Snap Crafts
Funfetti Cookies Recipe from Marissa at Rae Gun Ramblings
How to Make More Colors with Midliner Pens from Jenny at Jenny's Crayon Collection
Sharing is Caring! If you LOVE it, Please PIN it!
Too busy to download this Free Printable Rainbow Quote this right now? Pin it for later! I'd love for you to pin this to your favorite craft board on Pinterest and then it'll be waiting for you when you're ready.
Thanks for stopping by!