Free Printable Lunch Notes for Back-to-School FUN!
Download, print, and color a set of Free Printable Lunch Notes for Back-to-School FUN with the kiddos. If you (and your kids) love a good pun as I do, then these funny little notes will brighten their school day. There is also a set that is already colored, for a quick and easy thinking of you note to put in your kiddos lunch.
The perfect addition to a lunch bag or lunch box for kids of all ages and grade levels. These inspirational note cards will let your kids know you are thinking about them. Wish them good luck on a test day, remind them to dream, and let them know it is okay to make mistakes.
These printable lunch box notes are ideal for older kids to color for their younger siblings, and write a personalized message on the back!
Free Printable Lunch Notes to Print for Back-to-School
This post, Free Lunch Notes for Back-to-School, contains affiliate links. Using links to these sites means I will earn a percentage of the purchase at no extra cost to you.
What do you need to Print Free Lunch Notes?
I always get a lot of questions from my readers as to what products I like to use. So, I have gathered all of my favorite things and compiled the list below as a resource for YOU! Thank you for reading my blog and downloading printables and projects from this page. I truly appreciate each and every one of you!
Print and Color a set of Punny Lunchbox Notes
Creating the composition and hand drawing these Free Printable Lunch Notes for Back-to-School was FUN! My mom used to slip little handwritten pieces of paper with notes and stickers on them into my lunchbox when I was a kid. And my dad is famous for telling really bad jokes. They are the inspiration for these Punny Lunchbox Notes. I have been doodling and drawing since I was a kid. In fact, I used to get in trouble sometimes for drawing on my homework. Download the FREE PRINTABLE LUNCHBOX NOTES files at the bottom of this post ⤋ I have a set in color and another in black and white, so you can color them yourself.
Download the Free Printable Lunch Notes
FREE Hand Drawn Lunchbox Notes
I hope you will use my Free Printable Lunch Notes for Back-to-School as a jumping-off point to showcase YOUR creativity. They are fun to print in black and white and then color with Tombow Dual Brush Pens or Tombow 1500 Colored Pencils. Get 15% OFF and FREE US Shipping by using my affiliate link.
MORE Back to School Crafts and Free Printables!
Below are more Fun Crafts and Free Printables inspired by Back-to-School and created by my craftiest designer friends. We are participating in the Creative Crafts – Back-to-School Crafts Edition. Click the box below to see 70+ of the BEST Back to School Crafts and Free Printables!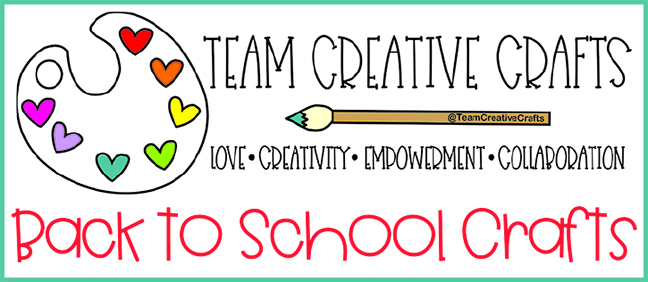 Free Printable Back to School Notebook Cover
Y'all know that I love to doodle and draw, so today I am sharing a Back-to-School Notebook Cover Free Printable to Color. There is nothing better than brand new school supplies, except maybe doodling them on this free printable. From pencils to scissors, to rulers, to crayons, to thumbtacks and paperclips!
DIY Dollar Tree Teacher Gift
Create an Easy Clay Pot Apple for Teacher that is the perfect container to hold some sweets and a gift card. Teachers give so much of themselves to our children, so thank them with this quick and easy 30-minute craft.
No-Sew Teacher Book Bag for Back to School
Create an Easy Pencil Tote Bag for your favorite Teacher or a bright and colorful way to carry all your back-to-school supplies. This adorable book bag takes only 30 minutes to make with Free Printable patterns included.
Sharing is Caring! If You LOVE it, Please PIN it!
Too busy to download these Free Printable Lunch Notes for Back-to-School right now? Pin it for later! I'd love for you to pin these free printables to your favorite craft board on Pinterest and then it'll be waiting for you when you're ready. I have them available in color AND black and white.
I'd love to hear what you think about this project, or if you want to know more about back to school printables. If you've made your own lunch bo note projects, I would love to see your creations! Share them on Instagram, and Facebook, or leave a comment/photo on the project pin on Pinterest! #CreativelyBeth
Thanks for stopping by!