Free Printable Craft Project Planner
Download these Free Printable Craft Project Planner pages to help you keep track of all of your projects and DIYs. This printable planner helps with planning out the materials you have and need. Never over-buy or under-prepare again when you use these Craft Project Planner printable sheets. And I don't know about you, but I need all the help I can get! I am sharing today as part of the Team Creative Crafts Organizing Edition, and I love to see all of the creative inspiration!
Craft Project Planner Free Printable
Time for all DIY enthusiasts, crafters, and artists that are also planner girls to get excited! I've got a free printable project planner for you that will help you get your projects done in an orderly fashion! Plus, it fits The Happy Planner or any other 8.5″x11″ planner, so you can add a few of these to your notebook for safekeeping.
This week I am co-hosting Team Creative Crafts Organizing Edition with my crafty friends Laura from Laura Kelly Designs, and Lindsay from Artsy-Fartsy Mama. We are featuring ALL the fabulously colorful and cute craft projects from some of the most talented designers we know. Check out my tutorial, then scroll down to see all the creativity, AND stop back on Saturday to see what everyone has created!
This post, Craft Project Planner Free Printable, contains affiliate links. Using links to these sites means I will earn a percentage of the purchase at no extra cost to you.
Here's what you need to Print Craft Project Planner Pages:
I always get a lot of questions from my readers as to what products I like to use. So, I have gathered all of my favorite things and compiled the list below as a resource for YOU! Thank you for reading my blog and downloading printables and projects from my website. I truly appreciate each and every one of you!
FREE Craft Project Planner Pages
You may probably know by now, that I am one who loves to create and do all kinds of crafty projects. I love making things! I really just want to make pretty things. I believe we were made to create in this one life and make something fabulous, not so fabulous, or whatever it may turn out to be in between. Well, lately I have been crafting some FUN projects that I plan to share with you soon. But I wanted to share with you today how I go about creating and organizing my projects. How do I figure out exactly what I am going to do next? Well, sometimes it depends on the season, the week, or whatever crafting goodies I have in my stash!
DIY Project Planner Pages Free Download
I've also said before, that I come up with ideas upon ideas, and truthfully, I will probably never get to them in all in my lifetime, but I'm sure gonna try! And so, knowing that I've hacked my own brain's thinking into a system to possibly, maybe, just maybe, make it a tiny little bit easier to get them done, or at least in the line-up. I've come up with a way to put the ideas down on paper and get them created. Want to know how? TA-DAAAA! A printable! Okay, I know what you're thinking, how is a printable going to do all that? Well, every time I get an idea, I get out one of my Free Printable Craft Project Planner sheets, jot the idea down, and put it in a binder or folder. Easy-peasy lemon squeezy. Now, I may not get around to making it immediately, but I've got the idea tucked away ready to pull out and work on when I'm inspired, especially if it is something seasonal. Now I have it saved so I won't forget it. GENIUS (if I do say so myself!). No good, or even halfway decent crafting idea will get lost.
Get Your Free Printable Craft Project Planner
Download a fun two-page craft project planner – one page to record all the important information about your project and another to include additional information. The printable craft planner would make a wonderful inspiration notebook! Just print multiple copies of the planner pages and place them in a three-ring binder, folder, or planner. I have created two versions, one in color.
Craft Planner Pages Free to Download and Print
And the other in black and white. I've included areas to fill in for PROJECT NAME, IDEAS & SKETCHES, OVERVIEW, MATERIALS, SHOPPING LIST, STEPS, and even a NOTES, DOODLES, and COLORS page! This second page is great for listing out related projects. I love having all my to-do's and materials on one organized piece of paper. This way, I don't have to run to the store again and again for things I've forgotten to include in my project! I can think it all through and write it down before I shop!
Craft Project Planner – a Free Printable
If you've been around for a while, then you know that I'm always working on lots of projects and this adorable craft planner PDF makes it easy to keep track of all of them. This craft project planner is perfect for planning DIY projects around the house, crafty projects with the kiddos, handmade gifts, and everything in between. I love seeing how you use my printables, so be sure to tag me on social media when you share! @CreativelyBeth #CreativelyBeth
Team Creative Crafts Organizational Inspiration
Below are more projects created by some of my craftiest designer friends. We are participating in the Team Creative Crafts – Organization Crafts Edition. Scroll down to see all the goodness. Stop back by Saturday for all the super cool projects!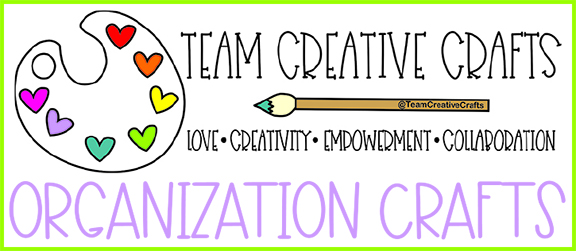 Awesome Organizational Crafts from Team Creative Crafts
I am totally blown away by the fabulous variety of projects that the team created this month. We told everyone "Organization Crafts, Anything Goes" and we have not been disappointed! And look at all the FABULOUS projects!
Creative Organizational and Storage Crafts
Is your fabric stash taking over your whole studio? Learn Easy Fabric Storage Ideas with Dollar Tree Supplies from Laura at Me and My INKlings.
Gather all those tools in one place in your studio so they are right at hand with a gorgeous Stenciled Craft Tool Organizer created by Lindsay at Artsy Fartsy Mama.
Organize all your crafty and DIY plans with this two-page Free Printable Craft Project Planner from Beth at Creatively Beth. The download is available in color and black and white. THAT'S ME!
Organize this mostly forgotten space with Laundry Room Labels made with Cricut Vinyl. Laura from Laura's Crafty Life has the full instructions.
Keep your yarn neat and organized by project in the new year in a Crocheted Basket with Free Pattern created by Smitha at Smiling Colors.
Use these Free Motivational Planner Stickers to help you stay organized and give you a little boost during the week. Download the set from Shani at Sunshine and Munchkins.
Get motivated with this fun Free Printable Organization BINGO Game for kids and adults. Justine at Little Dove understands that everything has its place.
Upcycle those containers from the recycle bin into elegant storage with Crocheted Jar Covers and a Free Pattern from Erica at Five Little Monsters.
Organize your Spice Drawer or Cabinet quickly and easily with a set of labels created with Cricut Vinyl. Katie the Crafty Blog Stalker shows you how.
I have a TON of organizational and storage crafts sprinkled throughout my website, but here are a few that I know you will LOVE! I grabbed my Tombow Dual Brush Pen Bright 10 Pack and made my own rainbow papers. I then cut up those papers in a variety of shapes to Create Rainbow Cards of Encouragement. I can't wait to get these in the mail to brighten the day of my friends and family.
Recently my twenty-something niece asked me to help her with some embroidery basics, I guess everything old is new again! Today I am going to share four Easy Embroidery Project Ideas for Beginners click through to see my amazing organizing tips and tricks!
Did you know that rainbow is my favorite color? So bright and happy, rainbows have brought a smile to my face since I was a little girl. Now that I am all grown up I still find inspiration and happiness in all things rainbow. How about you? Today I invite you to Color a Rainbow of Feelings with a FREE Printable that can be downloaded below.
Sharing is Caring!
Too busy to download this Free Printable Craft Project Planner right now? Pin it for later! I'd love for you to pin this project to your favorite craft board on Pinterest and then it'll be waiting for you when you're ready.
Thanks for stopping by!