Free Camping Scavenger Hunt Printable
Download and print this Free Camping Scavenger Hunt Printable along with three additional scavenger hunt ideas! Y'all know that I love to doodle and draw, so this worksheet has 24 different hand-drawn objects to find on an outdoor scavenger hunt. For a bonus pick up some trash along the way and help clean up the planet and recycle. The perfect opportunity to enjoy a little friendly competition with the whole family on your next camping trip. They are a great way to improve fine motor skills and keep kids of all ages busy on a nature walk.
I am so excited to be sharing today as part of the Creative Crafts CAMPING Crafts Edition, so stop back by on Saturday to see all of the creative inspiration!
Free Printable Scavenger Hunts
This week I am co-hosting Team Creative Crafts CAMPING Crafts Edition with my crafty friends Laura from Laura Kelly Designs, and Lindsay from Artsy-Fartsy Mama. We are featuring ALL the fabulously colorful and cute craft projects from some of the most talented designers we know. Check out my tutorial, then scroll down to see all the creativity, AND stop back on Saturday to see what everyone has created!
This post, Campground Scavenger Hunt, contains affiliate links. Using links to these sites means I will earn a small commission on the purchase at no extra cost to you.
Fun Camping Scavenger Hunt
To print the Nature Scavenger Hunts, I recommend using white card stock, but you can totally use regular copy paper if that is all you have on hand. It is also a good idea to laminate the free printable camping scavenger hunt to last from year to year. After the list of items is laminated, simply color the shapes with a dry-erase marker and then wipe them off with a paper towel when done! A fun way to spend quality time in the great outdoors with little kids, older kids, and even the big kid too!
First, scroll down to the bottom of the post to find the link to download the free printable picture scavenger hunt. The download links for these different scavenger hunts digital files will include four PDF files that are perfect for short hikes, small groups, and summer camp. You do not need to provide your email address. Due to the instant downloadable nature of this item, you will receive no physical items. The easy way is to download the document, open it using your own computer, and print it. I love my Canon TS9521C Inkjet Printer for its vibrant colors and the ability to print on cardstock.
If you don't have a printer at home, you can save the file and take it to a local copy or print shop.
I recommend printing these scavenger hunt clues on card stock, as it creates a much more durable surface. The right way to print is to be sure to select "fit" instead of "actual" in your printing options panel to ensure your printer doesn't cut off the edges of the files.
This Creatively Beth file is free for personal use only (okay for homes, schools, and libraries), but not for commercial use. Please print as many copies as you would like! However, please do not share or distribute the free download file. Instead please share a link to the fun scavenger hunt with friends and family so they can get their own. Please do NOT modify, sell, redistribute, or claim the design as your own. If you'd like to share this project, you may use one photo, credit must be given to Creatively Beth, and please link back to this post.
Free Printable Summer Scavenger Hunt
The first download file is the sensory scavenger hunt page. Which has a list of fun ideas for younger kids to find on the scavenger hunt list. The hand-drawn specific items are a great option for early readers to have a lot of fun and be successful.
Download the 4 FREE PRINTABLE files below ⤋
More Scavenger Hunt Games
The second, third, and fourth download files are fun activities that are a great camping scavenger hunt idea. These outdoor games will enhance kids' observational skills with an Alphabet Hunt, Color Hunt, and 5 Senses Hunt.
Download the Free Scavenger Hunts
These free good scavenger hunt files are free for you to use, but ONLY for personal use, please. They are ready to print, making them the best thing to use with large groups, younger children, older children, and children of all ages! You will receive ready-to-print digital files that you can print at home or in any local or online copy shop.
For best results, download the PDF file to your computer before printing, and print these free files using card stock for the most durable instructions (you can laminate them too). Print all the pages, single pages, or multiples of any one you would like once you save the downloadable file below ⤋
Please note that the design is NOT editable. Printed colors may not match exactly due to variations in paper quality, computer monitor setting, and printer quality.
Free Printable Scavenger Hunt
Free Printable Alphabet Hunt
Free Printable Colors Hunt
Free Printable 5 Senses Hunt
Camping Craft Inspiration!
Below are more projects created by some of my craftiest designer friends. We are participating in the Team Creative Crafts – CAMPING Crafts Edition. Scroll down to see all the goodness. Stop back by Saturday for all the super cool projects!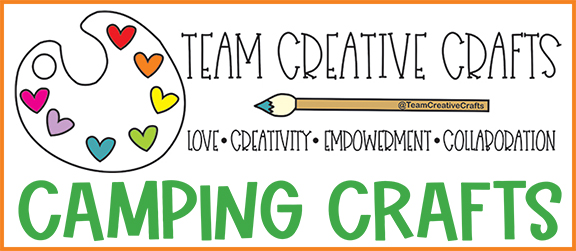 Awesome CAMPING Craft Inspiration from Team Creative Crafts
I am totally blown away by the fabulous variety of projects that the team created this month. We told everyone "CAMPING Crafts, Anything Goes" and we have not been disappointed! And look at all the FABULOUS projects!
Creative CAMPING Crafts
Free Camping Printables for Summer FUN!
Camping Scavenger Hunt – Creatively Beth
Smores Word Search – My And My Inklings
Camping Coloring Page – Team Creative Crafts
Camping Activity Page – Arsty Fartsy Mama
Camping Bingo Printables – Homemade Heather
Printable Sign for Camping – The Girl Creative
Camping Word Search – Smiling Colors
Camping Charades – Kara Creates
Camping Rules – Tried & True Creative
Camping Planner – Lemon Thistle
Camping Invitations – Handlettered Printables
Camping Word Scramble – Shower and Party Printables
Camping Bucket List – Crafty Blog Stalker
Camping Photo Challenge – A Hundred Affections
Camping Log – Michelle James Designs
Camping Journal – Leap of Faith Crafting
Camping SVG Bundle – Our Crafty Mom
Camping Joke Printables – Campfire Foodie
Sharing is Caring! If You LOVE it Then PIN it!
Too busy to print this second Camping Scavenger Hunt right now? Pin it for later! I'd love for you to pin these different activities to your favorite craft board on Pinterest and then it'll be waiting for you when you're ready.
Learn how to make Dollar Tree S'mores Kids Craft from simple jumbo wooden craft sticks. Camping and campfires are a few favorite summer activities. What better way to enjoy that summer fun year-round than creating popsicle stick S'mores from supplies you probably already have on hand in your craft stash? Quick and easy to make with the kiddos in just about 30 minutes.
What Supplies are the Best for Free Printables?
I always get a lot of questions from my readers as to what products I like to use for creating my hand-drawn printables. So, I have gathered all of the great things and compiled the list below as a resource for YOU!
Thank you for reading my blog and downloading printables and projects from this page. I truly appreciate each and every one of you! If you have additional questions, leave them in the comments!
Thanks for stopping by!