Ocean Animal Sensory Bottle and Word Search
Y'all know that I love to upcycle and recycle EVERYTHING, so I am excited to share an Easy Ocean Animal Sensory Bottle with a Free Printable Word Search. Something new around here is the word search puzzle with fun doodled ocean creatures. Hope you like it! Straight out of the recycle bin is the plastic parmesan cheese container that makes a perfect vessel for this sensory bottle filled with ocean animals. I am sharing today as part of the Team Creative Crafts OCEAN Crafts Edition, so stop back by tomorrow and Saturday to see all of the creative inspiration!
DIY Ocean Animals Sensory Bottle and Word Search
This week I am co-hosting Team Creative Crafts OCEAN Crafts Edition with my crafty friends Laura from Laura Kelly Designs, and Lindsay from Artsy-Fartsy Mama. We are featuring ALL the fabulously colorful and cute craft projects from some of the most talented designers we know. Check out my tutorial, then scroll down to see all the creativity, AND stop back on Saturday to see what everyone has created!
This post, Sea Creature Sensory Bottle with Free Word Search Printable, contains affiliate links. Using links to these sites means I will earn a percentage of the purchase at no extra cost to you.
What do you need to make a Sensory Bottle for Kids?
How do you create a Recycled Bottle Sensory Toy?
STEP ONE
To begin the DIY Sea Creature Sensory Bottle, gather all supplies. Remove the labels from the plastic container, then wash and dry completely. Secure any lid flaps with E6000 Adhesive which is clear and provides a permanent bond to all types of materials including plastic. Insert three or four of the plastic animals in the bottom of the bottle.
STEP TWO
Remove the screw-tight lid from your bag of Poly-Fil® Poly-Pellets® from Fairfield World™. Pour approximately one inch of Poly-Pellets® into the recycled bottle using the convenient spout. Poly-Fil® Poly-Pellets® from Fairfield World™ are plastic beads that are normally used to create bean bags but work perfectly for this sensory bottle project. Continue to layer Poly-Pellets® and plastic animals, leaving about an inch open at the top of the bottle.
STEP THREE
Once you are pleased with the number of animals to Poly-Pellets® ratio, secure the plastic lid to the bottle with E6000 Adhesive, then let cure overnight. Leave enough room in your bottle so that you can shake the plastic animals to the surface. If you fill the bottle up completely, then the animals will remain buried forever.
STEP FOUR
Once the E6000 has cured, decorate the lid with colorful washi tape in patterns of your choice. I, of course, selected rainbow-inspired washi tape.
STEP FIVE
To finish the Easy Recycled Sensory Bottle, punch a circle from decorative paper that is just a little bit smaller than the diameter of the plastic lid. Write on the tag what is in the Sensory Bottle, in case you make more than one. Attach the tag to the lid with Tombow Xtreme Adhesive, which is 5 times stronger than regular adhesive runners. Get the kiddos involved in this step and personalize the bottle to your child's likes and interests. The MONO Twin is a versatile marker to craft with because it has a larger bullet tip and an extra fine tip, which makes it perfect for all types of applications. 
Quick and Easy Sea Life Sensory Bottle with a Free Word Search
I hope you will use my Easy Ocean Animal Sensory Bottle as a jumping-off point to showcase YOUR earth-friendly craftiness. Grab some items from the recycle bin and set the kiddos free to just create! Download the FREE Printable Ocean Life Word Search and Coloring Page below ⇓
Ocean-Themed Craft Inspiration!
Below are more projects created by some of my craftiest designer friends. We are participating in the Team Creative Crafts – OCEAN Crafts Edition. Scroll down to see all the goodness. Stop back by Saturday for all the super cool projects!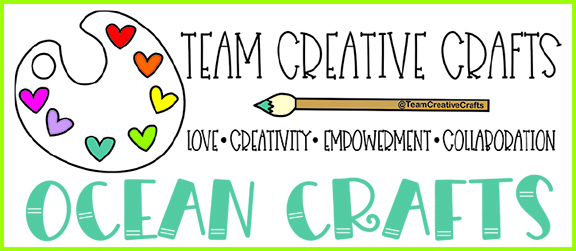 Awesome Ocean Craft Inspiration from Team Creative Crafts
I am totally blown away by the fabulous variety of projects that the team created this month. We told everyone "Ocean, Sea, Beach Crafts, Anything Goes" and we have not been disappointed! And look at all the FABULOUS projects!
Creative Beachy Sea Crafts
Shark week is upon us, but I don't like all the scary sharks, how about YOU? Cute and cuddly sharks (is that even a thing?) are what I am all about, so here are two free printables to download and color. My FREE Shark Coloring Pages for Shark Week are perfect to print out for the kiddos to color, but can also be colored by adults as a great way to relax and de-stress.
Create this quick and easy Dollar Tree Upcycled Flip Flop Welcome Sign in under 30 minutes with supplies from my favorite store! I purchased 4 pairs of colorful flip-flops, one bunch of daisies, and 2 butterflies for just under $9.00 – SCORE! I love taking traditional items and upcycling them into something totally different and unique.
Sharing is Caring! If you LOVE it, Please PIN it!
Too busy to make this DIY Ocean Animal Sensory Bottle right now? Pin it for later!  I'd love for you to pin this project to your favorite craft board on Pinterest and then it'll be waiting for you when you're ready.
I'd love to hear what you think about this project, or if you want to know more about Ocean Animals. If you've made your own Sensory Toys for kids, I would love to see your creations! Share them on Instagram, and Facebook, or leave a comment/photo on the project pin on Pinterest! #CreativelyBeth
Thanks for stopping by!