Dollar Tree S'mores Kids Craft
Learn how to make Dollar Tree S'mores Kids Craft from simple jumbo wooden craft sticks. Camping and campfires are a few favorite summer activities. What better way to enjoy that summer fun year-round than creating popsicle stick S'mores from supplies you probably already have on hand in your craft stash? Quick and easy to make with the kiddos in just about 30 minutes. I am sharing today as part of the Team Creative Crafts CAMPING Crafts Edition, so stop back by on Saturday to see all of the creative round-up inspiration!
Popsicle Stick S'mores Kids Camping Craft
This week I am co-hosting Team Creative Crafts CAMPING Crafts Edition with my crafty friends Laura from Laura Kelly Designs, and Lindsay from Artsy-Fartsy Mama. We are featuring ALL the fabulously colorful and cute craft projects from some of the most talented designers we know. Check out my tutorial, then scroll down to see all the creativity, AND stop back on Saturday to see what everyone has created!
This post, Dollar Tree S'mores Kids Camping Craft, contains affiliate links. Using links to these sites means I will earn a percentage of the purchase at no extra cost to you.
What do you need to Make a Popsicle Stick S'more?
Wiggle Eyes – Dollar Tree
Americana Acrylic Craft Paint by DecoArt – Titanium White, Cocoa, Bubblegum Pink
Scissors
Ruler
Pencil with New Eraser – Dollar Tree
CRAFT STICK S'MORES PATTERNS download below ⇓
How do you make a S'more from Dollar Tree Craft Sticks?
STEP ONE
To begin the Dollar Tree S'mores Kids Craft, gather all supplies. Measure three (3) jumbo craft sticks to five inches long with a ruler and pencil. Carefully cut the rounded ends off with scissors.
STEP TWO
Basecoat the three trimmed jumbo craft sticks with Titanium White acrylic paint, these will become the marshmallow. Paint two whole jumbo craft sticks with Cocoa acrylic paint, these will become the graham crackers. Let dry the paint dry, and apply a second coat, if necessary. What can I use if I don't have acrylic craft paint? You can use washable markers, crayons, or even colored pencils to color the jumbo craft sticks. I love my Americana Acrylics from DecoArt because they have one-coat coverage on most surfaces.
STEP THREE
Once dry, flip over the craft sticks on your work surface. Dry fit them with the three white craft sticks in the center and a tan craft stick on the top and the bottom. Assemble the craft stick s'more together by cutting down additional jumbo craft sticks and attaching them to the back with a glue gun and glue sticks. You can use liquid craft glue for this project, but you will have to wait for it to dry.
STEP FOUR
Download, print, and cut out the CRAFT STICK S'MORES PATTERNS below. Trace the melted chocolate pattern onto brown craft foam with a pencil and cut it out with scissors. Attach the chocolate to the s'mores between the top graham cracker and the marshmallow with a glue gun and glue sticks. Glue two large wiggle eyes to the marshmallow just under the chocolate.
STEP FIVE
Create cheeks by dipping a new pencil eraser into Bubblegum Pink acrylic paint and stamping on either side of the s'mores marshmallow face. Draw a smile on each craft stick s'mores face from cheek to cheek with the MONO Twin Permanent Black Marker. To finish the Popsicle Stick S'mores Kids Craft, add dots to the top and bottom graham crackers with the MONO Twin. The MONO Twin is a versatile marker to craft with because it has a larger bullet tip and an extra fine tip, which makes it perfect for all types of applications.
Quick and Easy Craft Stick S'mores Camping Craft
Create this quick and easy Dollar Store Craft S'mores Craft with the kiddos to not only promote learning skills, but also to spark conversations about camping, snacks, and fire safety. This is also the perfect opportunity to get the supplies and make S'mores at home. You don't need a campfire to create S'mores at home, just make them in the microwave.
Camping Craft Inspiration!
Below are more projects created by some of my craftiest designer friends. We are participating in the Team Creative Crafts – CAMPING Crafts Edition. Scroll down to see all the goodness. Stop back by Saturday for all the super cool projects!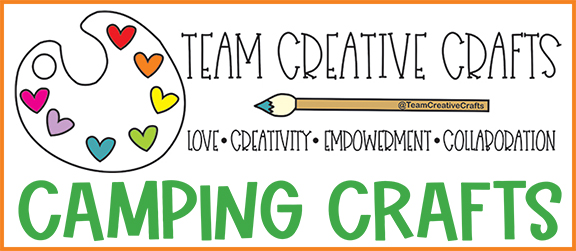 Awesome CAMPING Craft Inspiration from Team Creative Crafts
I am totally blown away by the fabulous variety of projects that the team created this month. We told everyone "CAMPING Crafts, Anything Goes" and we have not been disappointed! And look at all the FABULOUS projects!
Creative CAMPING Crafts
Sharing is Caring! If you LOVE it, Please PIN it!
Remember, today is day one! So, stop back by Friday and Saturday for more creativity. I promise you won't be disappointed, but rather inspired! Too busy to make this Dollar Tree Popsicle Stick S'mores Kids Craft right now? Pin it for later! I'd love for you to pin this project to your favorite craft board on Pinterest and then it'll be waiting for you when you're ready.
If you make this S'mores Camping Kids Craft, I would love to see it! Be sure to tag me on social media when you try this fun activity @creativelybeth on IG or Creatively Beth on FB. Happy Camping!
Thanks for stopping by!