Dollar Tree Mini Crate Storage Organizer for Crafts
Create a Dollar Tree Mini Crate Storage Organizer for Crafts with just a few simple supplies. My storage solutions these days need to be quick, easy, and affordable since I am still working in my permanently temporary studio space at my friend's house. This project is a fabulous way to store my DecoArt Americana Acrylic Paints and costs under $14.00 to make. I am sharing today as part of the Team Creative Crafts Organization Crafts Edition, so stop back by on Saturday to see all of the creative organizational round-up inspiration!
Mini Crate Spinning Storage Organizer
This week I am co-hosting Team Creative Crafts Organization Crafts Edition with my crafty friends Laura from Laura Kelly Designs, and Lindsay from Artsy-Fartsy Mama. We are featuring ALL the fabulously colorful and cute craft projects from some of the most talented designers we know. Check out my tutorial, then scroll down to see all the creativity, AND stop back on Saturday for the round-up post to see what everyone has created!
This post, Dollar Tree Mini Crate Paint Organizer, contains affiliate links. Using links to these sites means I will earn a percentage of the purchase at no extra cost to you.
Here's what you need to Make a Spinning Paint Organizer:
How to create a Dollar Tree Rotating Crate Organizer:
STEP ONE
To begin the Dollar Tree Mini Crate Storage Organizer, gather all supplies. These mini wooden crates can be found in the craft section of Dollar Tree. I am using eight, but you can use any amount that is divisible by four. The stove burner covers come in a set of two, (one small and one large) so you will need two sets to make the lazy susan spinner. Any small round beads will work, these faux pearls were in the floral section of Dollar Tree.
STEP TWO
In a well-ventilated area, or outside, spray paint one large burner cover white. I love this Rust-Oleum Ultra Matte spray paint. Set aside to dry. Remove the labels and packing from all the other materials.
STEP THREE
Attach two mini crates together, end to bottom edge, securing with a glue gun and glue sticks. Then glue the two sets of mini crates together to create a square. You can use liquid craft glue for this project, but you will have to wait for it to dry. I used eight mini crates and created a two-tiered storage spinner, but you can create as many tiers as you wish.
STEP FOUR
With a paintbrush, basecoat the outside of the wooden mini crates with Americana Titanium White acrylic paint. Set aside to dry and then apply a second coat, if necessary. I love my Americana Acrylics from DecoArt because they have one-coat coverage on most surfaces. I left the insides plain wood since they will be filled with craft supplies, but you can paint the inside of the crates if you prefer. Once the paint is dry, attach the mini crate tiers together with a glue gun and glue sticks.
STEP FIVE
Place one small stove burner cover upside down on your work surface and fill it with the faux pearl beads. Lay the second burner cover upside down inside the first. Rest the large burner cover right side up on top of the other two. This combination creates a lazy susan that spins or rotates. The large burner cover can be secured to the smaller one with glue, but I chose not to do this so the spinner can be more portable.
STEP SIX
To finish the Dollar Tree Mini Craft Storage, attach the mini crate storage on top of the stove burner cover lazy susan, and secure it with a glue gun and glue sticks. I did not glue my storage spinner together since I want it to remain portable. Place an 8 oz. plastic cup in the center hole of the mini crates to hold additional craft materials.
Dollar Tree Mini Crate Storage Organizer
This Mini Crate Storage Spinner took under an hour to complete for just $13.75 in materials from Dollar Tree and other items from my craft stash. I filled mine with paintbrushes and my favorite Americana Acrylic Paint from DecoArt in a rainbow of colors, but you can fill it with so many different things. Utensils and spices in the kitchen, make-up and brushes in the bathroom, office supplies, or additional craft supplies. Just make sure that you seal the wood if using the mini crate storage spinner in the kitchen or bathroom. Now all my paints and brushes are just a spin away!
Now it's time for some INSPIRATION!
Below are more projects created by some of my craftiest designer friends. We are participating in the Team Creative Crafts – Organizational Crafts Edition. Scroll down to see all the goodness. Stop back by Saturday for the super cool project round-up!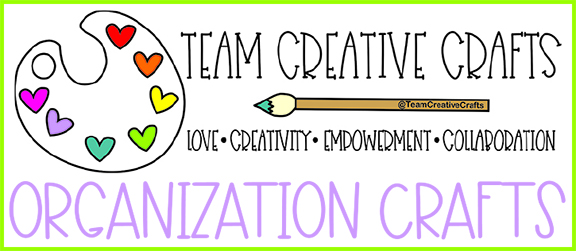 Awesome Organizing Craft Inspiration from Team Creative Crafts
I am totally blown away by the fabulous variety of projects that the team created this month. We told everyone "Organizational Crafts, Anything Goes" and we have not been disappointed! And look at all the FABULOUS projects!
Creative Organizational Crafts
Affordable storage is within reach. Learn how to make a Dollar Tree Mini Crate Organizer that SPINS for under $14.00 with a tutorial from Beth at Creatively Beth. THAT'S ME!
Keep all your thoughts, plans, and ideas handy in this stunning Marbled Resin Journal created by the talented Lindsay at Artsy Fartsy Mama.
Is your pantry a disaster? Then this post The 10 Best Pantry Organizing Tips and Ideas from Laura at Me and My INKlings is for YOU!
Menu planning and shopping is such a huge time saver. Create a fun and functional DIY Weekly Menu Board with step-by-step instructions from Liz at Liz on Call.
Three Ways to Make Labels with your Cricut Joy will help organize all the things in your home and studio. Blanca at Creativities Galore shows you how.
Take the 20 Day Purge and De-stash Challenge complete with a Free Printable Calendar and instructions from Beth at the Ruffled Daisy.
Did you know it takes 27 times for a chore to become a habit? Learn how to Create a Habit Tracker in a Bullet Journal from Jenny at Jenny's Crayon Collection.
Baby on the way? Then create adorable and easy DIY Nursery Organization Labels with iron-on vinyl. The complete tutorial is from Ginger at Ginger Snap Crafts.
Download my FREE Printable Craft Project Planner
Now that your studio is organized, let's organize your craft projects. Download my Free Printable Craft Project Planner Pages to help you keep track of all of your projects and DIYs. This printable planner helps with planning out the materials you have and need. Never over-buy or under-prepare again when you use these Craft Project Planner printable sheets. And I don't know about you, but I need all the help I can get! Available in black and white and color options.
Sharing is Caring! Pin it for Later
Too busy to make this Dollar Tree Mini Crate Storage Organizer for Crafts right now? Pin it for later! I'd love for you to pin it to your favorite craft board on Pinterest and then it'll be waiting for you when you're ready.
Thanks for stopping by!