DIY Tie Dye Ideas for a Colorful Birthday Party
My youngest niece recently turned 12 (yikes, how did that happen?!) and she asked me to help her create some DIY Tie Dye Ideas for a colorful Birthday Party. Of course, I was ALL IN for getting crafty. Using the "splash technique" with my favorite Tombow Dual Brush Pens, we will show you how to create some quick and easy decorations for a Tie Dye Birthday Party. The icing on the cupcake is the Deflecto 3-Tier Dessert Stand which is easy to assemble and then flattens for storage. Scroll down to see how we customized it!
Create a Colorful Birthday Party with DIY Tie-Dye Ideas
This week I am co-hosting Team Creative Crafts Kids Birthday Party Crafts Edition with my crafty friends Laura from Laura Kelly Designs, and Lindsay from Artsy-Fartsy Mama. We are featuring ALL the fabulously festive and cute craft projects from some of the most talented designers we know. Check out my tutorial, then scroll down to see all the creativity, AND stop back on Saturday to see what everyone has created!
This post, DIY Tie Dye Ideas for a Colorful Birthday Party, contains affiliate links. Using links to these sites means I will earn a percentage of the purchase at no extra cost to you.
Here's what you need to make Tie Dye Party Decorations:
Here's how to create a Colorful Tie Dye Birthday:
STEP ONE
To begin DIY Tie Dye Ideas Birthday projects we need to learn the splash technique, which is super easy with the right supplies. 1.) Apply three to four coordinating colors of Dual Brush Pens to the Blending Palette. 2.) Spray lightly with water in the Mister. 3.) Lay Glossy Inkjet Photo Paper shiny side down into the watered-down ink. Squish the paper into the ink making sure that the entire piece of photo paper is covered. Carefully lift up the Glossy Inkjet Photo Paper revealing the splash of color. The Dual Brush Pen Ink and water react with the emulsion in the Glossy Inkjet Photo Paper to create the most vivid and beautiful watercolor effects. NOTE: This technique will only work with INKJET Glossy Photo Paper because inkjet inks are water-based. This technique will not work with Laser Glossy Photo Paper.
STEP TWO
Look at those bright vibrant colors! I love how each piece is unique. Mix and match coordinating colors of Tombow Dual Brush Pens, experiment with the amount of water sprayed and try out different patterns. WARNING: This splash technique is totally addictive! We sat at the dining room table creating all morning and one by one dragged the rest of the family into our madness!
STEP THREE
For DIY Tie Dye ideas Happy Birthday Banner, use scissors to cut triangles out of the bottom of each of the four-inch by six-inch sheets of splash paper. Attach banner sections to white grosgrain ribbon with Tombow Xtreme Permanent Adhesive and then add large white letter stickers spelling out the Birthday girl (or boy's) name.
STEP FOUR
To create cupcake toppers punch out one-inch circles from the Tie Dye paper, apply Xtreme Permanent Adhesive to the back, and sandwich a wooden toothpick in the middle between another Tie Dye circle. Use the MONOTWIN Permanent Marker to doodle words and designs onto the cupcake toppers. Punch out different shapes to personalize your party!
STEP FIVE
The Deflecto 3-Tier Dessert Stand is quick to assemble in four easy steps. It's made of durable and washable clear acrylic, and even has holes around the tiers for cake pops or lollipops. And each tier has a 1/4″ edge that makes customizing a breeze!
STEP SIX
To decorate the Deflecto 3-Tier Dessert Stand with DIY Tie Dye Ideas cut the paper into 1/4″ wide strips on a paper trimmer and attached them with Tombow Xtreme Permanent Adhesive.
Customize Birthday Party Decor
The Deflecto 3-Tier Dessert Stand allows you to display your favorite desserts, like Tie-Dye Cupcakes in a stylish, appealing fashion. Includes three clear and durable plastic round plate tiers, and two supports that provide a sturdy and well-balanced display. Assembly is simple and quick! The space-saving design knocks down flat for easy storage, clean-up, and transportation. It's ideal for family gatherings, work events, holidays, birthday parties, baby showers, literally any celebration. Decorate with your favorite ribbon, washi tape, scrapbook paper, or DIY Tie-Dye ideas paper strips to customize for any special occasion.
Create DIY Tie Dye Ideas for Birthday Parties with just a few supplies!
Creating do it yourself Tie Dye Ideas for a Colorful Birthday Party has never been easier. I hope you will use this project as a jumping-off point to showcase YOUR creativity. Get the kiddos involved and have a fun family craft time soon! I promise this splash technique is entertaining for children of ALL ages!
Now it's time for some INSPIRATION!
Below are more SPRING-Y projects created by some of my craftiest designer friends. We are participating in the Team Creative Crafts Kids Birthday Party Crafts Edition. I hope you enjoyed my DIY Tie Dye Birthday Party Ideas. Now scroll down to see all the goodness. Stop back by Saturday for all the super cool projects!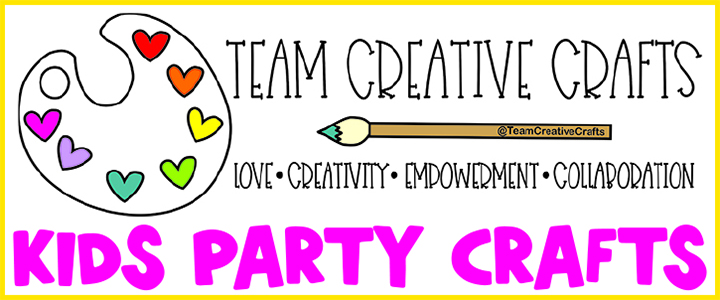 Awesome Birthday Party Craft Inspiration from Team Creative Crafts
I am totally blown away by the fabulous variety of projects that the team created this month. We told everyone "Kids Birthday Party Crafts, Anything Goes" and we have not been disappointed! And look at all the FABULOUS projects!
Inspiring Kids Birthday Party Crafts
Laura from Me and My INKlings has created the CUTEST Confetti Birthday Party Hats with just three supplies
Smitha from Smiling Colors is sharing YUMMY Kawaii Inspired Sprinkle Donut Notebooks, great for goodie bags
Laura from Laura's Crafty Life has created a bright and colorful Birthday Party Balloon Wreath
Shani from Sunshine and Munchkins is sharing a Free Printable Encanto Birthday Party Fortune Teller
Erica from 5 Little Monsters has created Free Printable Party Favor Thank You Tags, perfect for goodie bags
Kelsey from Poofy Cheeks is sharing a Free SVG Cut File to make adorable Paper Pinwheel Decorations
Justin from Little Dove has created a FABULOUS DIY Rainbow Mini Pinata Craft with a step-by-step tutorial!
Creative Birthday Party Ideas for Kids
Beth with Creatively Beth is sharing some colorful DIY Tie Dye Ideas for Birthday Party FUN
Lindsay from Artsy Fartsy Mama has created a Party Animal Coloring Page Tote Bag, two crafts in one
Liz from Liz on Call is sharing how to make Candy-Filled Cupcake Birthday Party Favors – BRILLIANT!
Kimberly from Crafting Cheerfully has created a whimsical Paper Cupcake Banner that is totally customizable
Ginger from Ginger snap Crafts is sharing a Personalized Beach Ball Party Favor, for all those pool parties
Elise from Polka Dotted Blue Jay has created Easy Birthday Party Inspired Cupcake Decorations
Heather from Homemade Heather is sharing Cupcake Decorated Sugar Cookies and a Free Printable Tag
Since You Are Still Here Scrolling Let's do a GIVEAWAY!
You know that we never let you leave these monthly collaborations without the chance to win some crafty swag! We have an AWESOME Prize Package from Coats & Clark makers of Red Heart Yarn! Eight skeins of yarn and a pom pom maker, enter through the Rafflecopter widget below to WIN!
a Rafflecopter giveaway
Sharing is Caring!
Too busy to make this project right now? Pin it for later!  I'd love for you to pin my Tie Dye Birthday Party craft projects to your favorite craft board on Pinterest and then it'll be waiting for you when you're ready.
Deflecto has a TON of other storage solutions for your office, craft room, or studio. Check out my posts Back to School Teacher Gift, How to Create Rainbow Cards, and Color a Rainbow of Feelings for additional ideas, inspiration, and FREE Printable files to download and color!
Thanks for stopping by!