DIY Personalized Dog Bandanas in 15 Minutes
DIY Personalized Dog Bandanas are quick and easy to make with just a few supplies. I picked up these fun red, white, and blue bandanas at the Target Dollar Spot. The letters are embroidered and iron-on ones that can be found in the wearables aisle at Michael's. Three supplies, plus a household iron, and you are set! Complete this craft in just 15 minutes. I am sharing today as part of the Team Creative Crafts Animal and Pet Crafts Edition, so stop back by on Saturday to see all of the creative inspiration!
How to Make Personalized Dog Bandanas
This week I am co-hosting Team Creative Crafts Animal and Pet Crafts Edition with my crafty friends Laura from Laura Kelly Designs, and Lindsay from Artsy-Fartsy Mama. We are featuring ALL the fabulously colorful and cute craft projects from some of the most talented designers we know. Check out my tutorial, then scroll down to see all the creativity, AND stop back on Saturday to see what everyone has created!
This post, Personalized Dog Bandanas a 15 Minute DIY, contains affiliate links. Using links to these sites means I will earn a percentage of the purchase at no extra cost to you.
Here's what you need to create Custom Bandanas for your Dog:
How to make 15 Minute Dog Bandanas:
STEP ONE
To begin the DIY Personalized Dog Bandanas, gather all supplies. Embroidered and iron-on letters can be found at the big box craft stores, coming in a variety of fonts and colors. These red, white, and blue bandanas were found for $1.00 each at Target but look at the craft and dollar stores for similar styles. Check out these bandanas I found on Amazon. Wash and dry the bandanas, then iron them smooth.
STEP TWO
Remove the letters to spell your dog's name off the alphabet sheet. They will pop off easily kind of like they are perforated. Place the bandana on your ironing board, then line up the letters to spell your dog's name. The stripe on this bandana makes it super easy. Place the name close to the hemmed edge, so you can see it when folded and loosely tied to your dog's neck. Iron-on the embroidered letters according to the instructions on the back of the packaging.
STEP THREE
To finish the Personalized Dog Bandanas, select a script-style monogram letter, for a more elegant look, sold individually at the craft store. I love that the letter "D" fits perfectly into the white square at the corner of the plaid bandana. Iron-on the embroidered letter according to the instructions on the back of the packaging. I have this fun little craft iron that gets hot super quick, but you can certainly use a regular household iron or the Cricut Easy Press.
Quick and Easy DIY Personalized Pet Bandana
Dixie was so excited to get her new Personalized Dog Bandanas and now she is all set for the summer barbecue season. I love craft projects that are quick, easy, and totally doable. Add your dog's nickname, initial, full monogram, or even a fun dog pun. Keep a lookout for these supplies the next time you head to the craft store. These letters have such a wide variety of uses to personalize all the things!
Now it's time for some INSPIRATION!
Below are more projects created by some of my craftiest designer friends. We are participating in the Team Creative Crafts – Animal and Pet Crafts Edition. Scroll down to see all the goodness. Stop back by Saturday for all the super cool projects!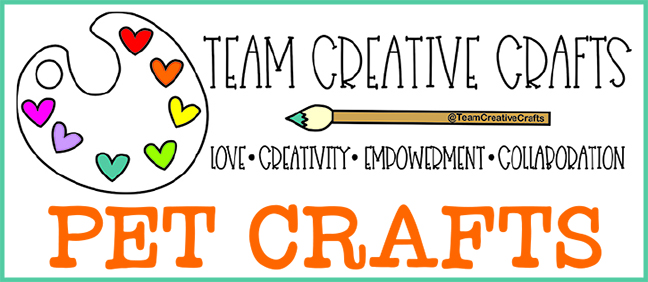 Awesome Pet Craft Inspiration from Team Creative Crafts
I am totally blown away by the fabulous variety of projects that the team created this month. We told everyone "Animal and Pet Crafts, Anything Goes" and we have not been disappointed! And look at all the FABULOUS projects!
Creative Animal and Pet Crafts
Beth of Creatively Beth is sharing a quick and easy DIY Personalized Pet Bandana with two supplies from the craft store. Dixie loves to dress up in her monogrammed scarf. THAT'S ME!
Create bright and colorful Paracord Dog Collars for your favorite pups with an easy tutorial from Lindsay of Artsy Fartsy Mama. This pattern can be customized for any size dog or cat!
Laura of Me and My INKlings has created a quick and easy Recycled Water Bottle Dog Toy. Sew together rainbow colors of Kunin Felt and keep those pups busy for hours!
If Crazy Cat Lady is your vibe, then embrace it with this wicked funny Starbucks Cup created by Liz of Liz on Call. Download her Free SVG File and make one today!
Kimberly of Crafting Cheerfully is sharing a gorgeous Layered Paper Mandala Dog Print Frame created with paper! I know, can you believe this is paper?
Make your pup the best dressed at the park with a Personalized Dog Bandana. Ginger of Ginger Snap Crafts is sharing the full tutorial using her Cricut cutting machine, so you can make one, for YOUR favorite puppy!
Elise of Polka Dotted Blue Jay loves any excuse to enjoy a cupcake, so she is sharing an adorable set of Puppy Party Cupcake Toppers. She is sharing how easy it is to print and cut with her Silhouette cutting machine.
Keep your favorite puppy comfy and cozy in a Crocheted Dog Bed with Free Pattern. Get all the tips and tricks for this project from Heather of Homemade Heather.
Sharing is Caring! Pin it for Later
Too busy to make these Personalized Bandanas for your Dog right now? Pin it for later! I'd love for you to pin this project to your favorite craft board on Pinterest and then it'll be waiting for you when you're ready.
Thanks for stopping by!