Craft Studio Storage Ideas
Today I am sharing The Best Craft Studio Storage Ideas, plus some tips, tricks, and the craftiest projects thrown in for good measure! A place for everything and everything in its place. That was the mantra that my Mom always repeated when she told us to clean up our rooms, so tidiness is in my blood. Cleaning up and organizing my studio after one craft project before I start another is my happy place. I am excited to be sharing today as part of the Team Creative Crafts Organizational Crafts Edition.
The Best Craft Studio Storage Ideas, Tips, and Tricks
This week I am co-hosting Team Creative Crafts Organizational Crafts Edition with my crafty friends Laura from Laura Kelly Designs, and Lindsay from Artsy-Fartsy Mama. We are featuring ALL the fabulously categorized and storage-related craft projects from some of the most talented designers we know. Check out my tutorial, then scroll down to see all the creativity.
This post, The Best Craft Studio Storage Ideas, contains affiliate links. Using links to these sites means I will earn a percentage of the purchase at no extra cost to you.
The BEST Marker Storage Case
Y'all know how much I love my Tombow products. The Dual Brush Pens are among the most cherished, so not only do I want to keep them organized but also portable, so they can go with me where ever I might travel. From my studio to the couch, to the porch, and maybe even the kitchen table! LOL! Not traveling much these days, but the Tombow Marker Storage Case makes creating anywhere easy!
The Marker Storage Case has a lid that locks tight but also snaps right off for easy access. Lift the lid off the base with the built-in handle, which lays flat against the lid when not in use.
In its closed rectangular format, the marker placement matches the Dual Brush Pen Color Tracker which is available for download on the Tombow website. The Marker Storage Case and Color Tracker Chart makes using and then replacing the Dual Brush Pens quick and easy. Having all my Dual Brush Pens in a neat, tidy, and in RAINBOW order makes me happy!
The secret of the Tombow Marker Storage Case is that it expands, accordion-style, to create a long skinny unit that sits perfectly at the top of any work surface. I use the case in this expanded version when I am working in my studio because it takes up literally almost no space.
Now it's time for some INSPIRATION from Team Creative Crafts!
Below are more storage projects created by some of my craftiest designer friends. We are participating in the Team Creative Crafts Organizational Crafts Edition. I hope you will enjoy the Best Craft Studio Storage Ideas that I have gathered together below!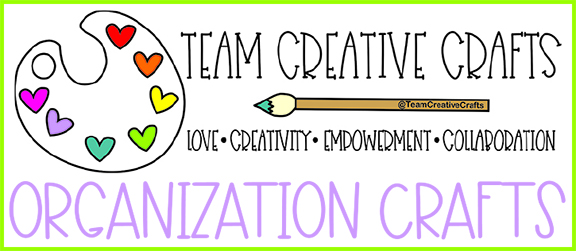 Creative Craft Storage Solutions
Brilliant Craft Storage Solutions
Thanks for getting organized with us and all of these clever and brilliant ways to store craft supplies! And stay tuned for the next edition of Team Creative Crafts to see what Laura, Lindsay, and I have up our crafty sleeves. I know I can't wait.
Sharing is Caring! Pin it for Later
Too busy to organize your craft studio storage ideas right now? Pin it for later! I'd love for you to pin this Marker Storage Case to your favorite craft board on Pinterest and then it'll be waiting for you when you're ready.
Thanks for stopping by!