Easy Coastal Inspired Seashell Decor
Living in SW Florida, the coastal style of decorating is always something that I gravitate towards. How about you? Finding these pre-made framed burlap panels made the project quick and easy. My DIY Coastal Inspired Seashell and Starfish Decor will add a touch of the sea no matter where you live! I am sharing today as part of the Team Creative Crafts OCEAN Crafts Edition, so stop back by on Saturday to see all of the creative round-up inspiration!
Coastal Inspired Burlap Home Decor in 15 Minutes!
This week I am co-hosting Team Creative Crafts OCEAN Crafts Edition with my crafty friends Laura from Laura Kelly Designs, and Lindsay from Artsy-Fartsy Mama. We are featuring ALL the fabulously colorful and cute craft projects from some of the most talented designers we know. Check out my tutorial, then scroll down to see all the creativity, AND stop back on Saturday to see what everyone has created!
This post, Coastal Inspired Shell Decor, contains affiliate links. Using links to these sites means I will earn a percentage of the purchase at no extra cost to you.
What do you need to make Home Decor with a Coastal theme?
How do you create Coastal Inspired Decor?
STEP ONE
Remove the burlap panel from the frame and dry brush both frames with Spa Blue paint. Let dry. Dry brushing is a technique where you dip the bristles of a dry paintbrush into the paint and lightly swipe across the surface. It gives a very random finish where the original surface shows through in some places. Repeat with the second frame. I love Americana Acrylics from DecoArt because they have one-coat coverage on most surfaces.
STEP TWO
Lightly sand the front and side surfaces of the frame to reveal the original whitewash finish and the raw wood base. Wipe down the surfaces with a damp paper towel or cloth to remove the sanding dust. The combination of dry brushing and sanding gives this frame a beachy weathered look that fits perfectly into the coastal decorating theme. Repeat this process with the second frame.
STEP THREE
Replace the burlap panels inside both of the frames. Attach the large scallop shell and starfish to the center of each frame with MONO Multi Liquid Glue. Set aside on a flat surface to let the glue dry. MONO Multi Liquid Glue from Tombow has a quick grab and a stronghold when bonding a variety of different surfaces.
Quick and Easy Ocean-Inspired Coastal Decor
Hang your Coastal Inspired Shell and Starfish Framed Decor within view in your favorite room OR give them as a gift to a friend who loves the sea. The pair of Hampton Art Burlap Frames was my secret to this successful 15 Minute Craft! The hardest part was waiting for the paint and glue to dry.
Beachy Ocean Craft Inspiration!
Below are more projects created by some of my craftiest designer friends. We are participating in the Team Creative Crafts – OCEAN Crafts Edition. Scroll down to see all the goodness. Stop back by Saturday for all the super cool projects!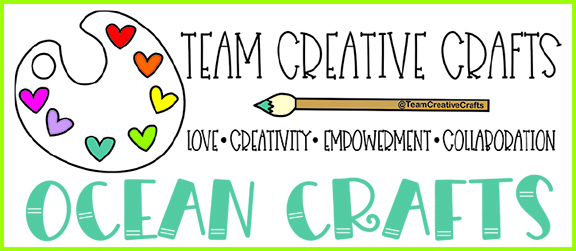 Awesome OCEAN Craft Inspiration from Team Creative Crafts
I am totally blown away by the fabulous variety of projects that the team created this month. We told everyone "OCEAN Crafts, Anything Goes" and we have not been disappointed! And look at all the FABULOUS projects!
Creative Beach Crafts and Free Printables
My FREE Summer Seashell Coloring Page is perfect to print out for the kiddos to color, but can also be colored by adults and framed for some beachy coastal home decor. I have been drawing and doodling seashells since I moved to Florida for college. Days spent doodling on the beach made me never want to leave, so I stayed!
This Easy Macrame Bookmark for Beginners isn't my Gran's macrame, but that's what I love about a technique that can reinvent itself over and over again. Everything old is new again and macrame has definitely become trendy again but in a whole new way with Hemp Cord from Hemptique.
Sharing is Caring! If you LOVE it, Please PIN it!
Too busy to make this Coastal Inspired Seashell and Starfish Framed Decor right now? Pin it for later! I'd love for you to pin this project to your favorite craft board on Pinterest and then it'll be waiting for you when you're ready.
I'd love to hear what you think about this project, or if you want to know more about Coastal Decor. If you've made your own ocean-themed projects, I would love to see your creations! Share them on Instagram, and Facebook, or leave a comment/photo on the project pin on Pinterest! #CreativelyBeth
Thanks for stopping by!